Kenosha Shooting Survivor Says Rittenhouse Supporters Are Sending Him Death Threats
Gaige Grosskreutz is reportedly a paramedic who traveled from the Milwaukee area to Kenosha to attend the third night of protests in the wake of Jacob Blake's shooting.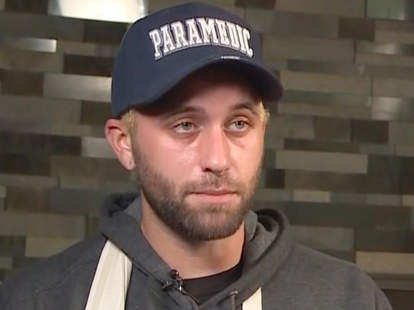 The lone survivor of the Kenosha, Wisconsin protest shooting told CNN in an interview published Friday that he and his family have been receiving death threats from supporters of alleged gunman Kyle Rittenhouse.
Gaige Grosskreutz was shot in the arm at the protest on August 25, during which two other protesters, Joseph Rosenbaum and Anthony M. Huber, were killed.

Kyle Rittenhouse, 17, has been charged as an adult with two homicide counts and one attempted homicide count and is expected to appear in court for an extradition hearing on September 25. Rittenhouse, an Illinois resident whose admiration of militia and police have been widely reported, is currently in prison. The suspect's lawyers have said his actions were in self-defense.
Grosskreutz traveled 40 miles from the Milwaukee area to Kenosha to attend the third night of protests in the wake of Jacob Blake's shooting on August 23 at the hands of police, CNN reported.

Who is Gaige Grosskreutz?
Grosskreutz, 22, is reportedly a paramedic who is studying outdoor education with a focus in program administration. Since the shooting, President Trump and many of his supporters have depicted protesters in cities including Kenosha and Portland as members of "radical antifa" groups — a sentiment the president has expressed throughout the summer about anti-racism protesters.
While telling CNN and the Milwaukee Journal Sentinel that he and his family have received threats online, Grosskreutz attempted to correct the record.
"None of it is true, of what people have been saying as far as their assumptions toward me, at least," he told CNN. "I'm not an Antifa terrorist organizer. I am a 22-year-old male. I go to school. And yeah, I exercise my First Amendment right to peacefully protest."
Grosskreutz was legally carrying a handgun at the August protest. Rittenhouse, who was carrying an AR-15 style rifle, is not legally allowed to possess that weapon under Wisconsin law because he is under 18, and has been charged with a misdemeanor for carrying a dangerous weapon.
Grosskreutz told CNN that he decided to bring his licensed gun after "seeing a call to arms on Facebook by a group called the Kenosha Guard, a self-styled militia group that was using the social media platform to encourage armed citizens to take to the streets." Both the Journal Sentinel and CNN reported that Grosskreutz does not have a felony record, contradicting online attacks about his criminal history.
Facebook has since apologized for failing to shut down the page. According to video footage taken at the protest, mostly armed white men appeared to be standing outside a gas station and other businesses, and the New York Times has reported that law enforcement is investigating their involvement.
According to video footage and a criminal complaint filed by prosecutors, Rittenhouse allegedly first shot Rosenbaum, who had thrown a plastic bag at him as they crossed each other in a parking lot, and reportedly tried to obtain his weapon. The suspect then tripped and fell, and Huber, who had been holding a skateboard, was shot and killed after trying to pull the gun from Rittenhouse. During that exchange, Grosskreutz was also shot and injured.
Earlier this week, Donald Trump, Jr. said of Rittenhouse: "We all do stupid things at 17."
"He's a young kid. I don't want 17-year-olds running around the street with AR-15s," Trump Jr. said in an interview with "Extra" host Rachel Lindsay. "Maybe I wouldn't have put myself in that situation. Who knows? But we all do stupid things at 17."
Lindsay, who had asked the president's son why his administration hadn't condemned Rittenhouse, responded, "I think it's a little bit beyond stupid."
Grosskreutz is being treated in the same medical center where Blake, who was left partially paralyzed by the police shooting, is recovering. He and his attorney, Kimberly Motley, told CNN that he relives and thinks about the shooting every day.
"I was shot point blank with a .223 round from the shooter," Grosskreutz told CNN. "And I am now missing 90% of my bicep. This has not been easy emotionally, physically. I'm in constant pain, like excruciating pain that just doesn't go away -- both in my arm, in my heart."

Since Blake's shooting, President Trump and Democratic presidential candidate Joe Biden have both visited Kenosha. Trump praised law enforcement during his visit, after saying he thought Rittenhouse acted out of self-defense, echoing the suspect's lawyer and commentators on Fox News. During his visit, Biden met with members of Blake's family before attending a community listening session with Black leaders and activists at a church.