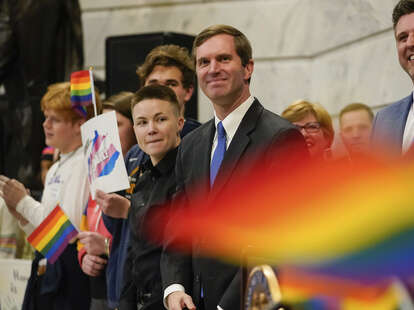 Kentucky Governor Andrew Beshear (D) attends a rally held to advance LGBTQ+ rights on Wednesday, February 19, 2020, at the State Capitol in Frankfort, Kentucky. Credit: AP Photo
Kentucky Governor Andrew Beshear (D) attends a rally held to advance LGBTQ+ rights on Wednesday, February 19, 2020, at the State Capitol in Frankfort, Kentucky. Credit: AP Photo
The governor of Kentucky, Andrew Beshear (D), has vetoed a bill that would restrict transgender girls and women from competing on school teams that align with their gender identity over what he claims is "most likely" a violation of the U.S. Constitution.
"Transgender children deserve public officials' efforts to demonstrate that they are valued members of our communities through compassion, kindness and empathy, even if not understanding," the governor wrote.
Sponsored by Sen. Robby Mills (R), and initially passed in February, Senate Bill 83 emphasizes that "all intercollegiate and intramural athletics authorized by the institution" are to be predicated on the "biological sex of students eligible to participate."
"Excluding trans students deprives them of opportunities available to their peers and sends the message they are not worthy of a full life," the Kentucky ACLU wrote in a statement on Wednesday.
NPR reported that Republican governors in Utah and Indiana vetoed bills with similar anti-trans frameworks last month.