Kevin Durant, 3 Other Brooklyn Nets Players Test Positive For Coronavirus
"Everyone be careful, take care of yourself and quarantine."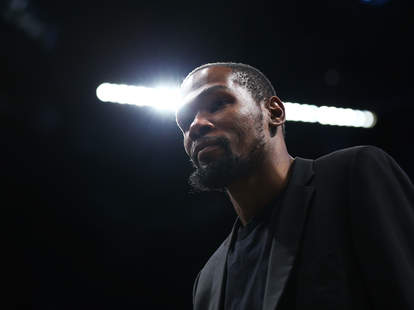 The Brooklyn Nets announced on Tuesday that four of its players have tested positive for the novel coronavirus. 
The Nets' statement clarified that only one of the players is experiencing symptoms, while the other three are asymptomatic.
"The organization is currently notifying anyone who has had known contact with the players, including recent opponents, and is working closely with state and local health authorities on reporting," the statement continued. "The health of our players and staff is of the highest priority to the organization and the team is doing everything within its power to ensure that those affected receive the best care possible."
Though the Nets' announcement didn't name the players, Kevin Durant told the Athletic that he tested positive but is feeling fine and experiencing no symptoms. 
"Everyone be careful, take care of yourself and quarantine," Durant said. "We're going to get through this."
Last week, Utah Jazz players Donovan Mitchell and Ruby Gobert announced that they both tested positive for coronavirus. The news came one day after the NBA announced it will suspend the 2020 season "until further notice."