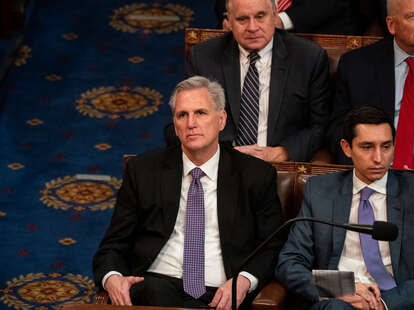 Welp, the second day of the 118th Congress has basically wrapped — and guess what? We still don't have a Speaker of the House. In rounds 4, 5, and 6 of voting today, House GOP Leader Kevin McCarthy (R-CA) remained unable to secure the 218 votes needed for the position. The House is adjourned until at least 8 pm tonight, and it's anyone's guess as to what the future will bring.
The 2 drama-filled days have made for compelling daytime television. Or, as new 25-year-old Rep.-elect Maxwell Frost (D-FL) put it, "Feel like I'm living in a worldstar video the way McCarthy is getting beat down right now by his own party on the house floor."
While the procedural uncertainty of the last 2 days feels unprecedented, it's actually not. In the House of Representatives' 234-year history, there have been 14 speaker elections that went to multiple ballots. However, this is only the third time it's happened since the rise of the 2-party system in 1856, and the first time since 1923 — an entire century ago.
In the most extreme example, the 34th Congress, which opened in December 1855, took nearly 2 months and 133 votes to choose a House speaker. The race featured anti-slavery Rep. Nathaniel P. Banks of Massachusetts, a member of the nativist American Party, against a swath of candidates in favor of allowing slavery in new states and territories. After 61 days and a voting rule change, Banks was finally selected as the House Speaker in February 1856.
"This is not a mere contest as to a Speaker of the House; it is but an incident in a long and arduous struggle which is to determine whether slavery will be the pole star of our National career," Horace Greeley's New York Tribune wrote at the time. And, given what was to follow just 6 years later, he was definitely right.
The debate over supporting or opposing slavery seems as good a reason as any to drag out a Speakership election. But what issue is the GOP's "Never Kevin" wing fighting for today? "To break the establishment"? To make it easier for far-right insurgents to challenge incumbent reps in GOP primaries? To give Matt freakin' Gaetz the keys to a House Armed Forces subcommittee? It's honestly difficult for us to pinpoint their exact grievances. Unfortunately for McCarthy, he'd probably say the same thing.