Know This: Kobe Bryant's Memorial Service & Harvey Weinstein's Conviction
Plus an uptick in cases of coronavirus reported outside China.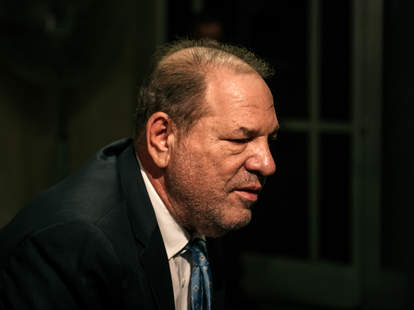 1. Harvey Weinstein is now a convicted rapist
Harvey Weinstein was convicted of rape and sexual assault in his New York City trial today. He faces up to 25 years in prison. A jury of seven men and five women convicted Weinstein on two out of five counts: criminal sexual act in the first degree and third-degree rape. The trial was based on the accounts of two women and saw six women take the stand with accusations. He was found not guilty of first-degree rape and the most serious sex crimes of predatory sexual assault — the latter two charges could have sent him to prison for life. Upon the verdict announcement, he was immediately taken into custody and will be held without bail pending his sentencing, which is set for March 11. Read more about the trial on our website.
Know This: More than two years after the #MeToo movement saw a resurgence, Weinstein's rape conviction represented a partial victory for survivors. "There simply wasn't much precedent for believing a woman's complicated story, or even six women's, beyond a reasonable doubt," wrote New York Magazine senior correspondent Irin Carmon. "There is today." Read more of the reactions to the verdict here.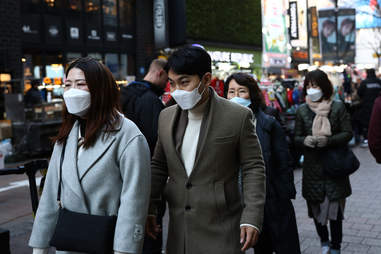 Getty Images/ People wearing masks to prevent the COVID-19 virus walk along a shopping district in Seoul, South Korea.
2. Uptick in cases of coronavirus reported outside China
The number of COVID-19 cases caused by a novel, deadly strain of coronavirus has sharply increased outside of China. In countries besides China, there are 2,074 cases confirmed — including 23 deaths — in 28 countries as of Monday, with the largest concentrations seen in Italy, Iran, and the Republic of Korea, according to the World Health Organization. In China, more than 77,000 people have contracted the virus, and more than 2,500 people have died, according to health officials. The WHO has not yet declared the disease a pandemic, but Director-General Tedros Adhanom Ghebreyesus said the organization is preparing to. More than 800 people in South Korea have been infected with COVID-19, which surpasses any other country besides China, according to multiple outlets. In Italy, which has seen the largest outbreak outside of Asia, confirmed cases increased to more than 200 as of Monday, causing the country to shut down public events in 10 cities.
Know This: Armani held its Autumn/Winter 2020 fashion show to a crowd of no one as a precautionary measure against the spread of the coronavirus. The Italian fashion house opted to live-stream the event yesterday in lieu of a live audience during Milan Fashion Week.
Getty Images
3. Emotional public memorial for Kobe and Gianna Bryant held today
Family, friends, and some 20,000 fans honored Kobe and Gianna Bryant today in an emotional memorial service at Staples Center in Los Angeles, often referred to as "the house that Kobe built." Kobe's wife, Vanessa Bryant, gave a moving tribute to her husband and daughter, and spoke of how close they were: "God knew they couldn't be on this Earth without each other. He had to bring them home to heaven together." Beyoncé and Alicia Keys performed musical tributes of some of the Bryant family's favorite songs. Other speakers included Jimmy Kimmel, a good friend of the family; Diana Taurasi and Sabrina Ionescu, two women's basketball players who were mentees of Kobe's and mentors to the 13-year-old Gianna; Michael Jordan, who teared up while talking about his "little brother" Kobe and joked about starting a new crying meme; and Shaquille O'Neal, Kobe's teammate and fellow Lakers champion, who spoke of their loving — and "complicated" — relationship.
The date of today's memorial, Feb. 24, is significant because Gigi's jersey number was #2, and one of her dad's legendary Lakers numbers was #24. All 20,000 tickets to the public memorial sold out, and ticket proceeds will go to the Mamba & Mambacita Sports Foundation. Multiple times throughout, the crowd broke out into the well-known, simple chant that defined decades of basketball: "Kobe." You can watch the whole service here.
Know This: Vanessa Bryant filed a lawsuit today against the helicopter company that owned the aircraft that crashed on Jan. 26, killing Kobe, Gianna, and the six other passengers on board. The wrongful death lawsuit against Island Express Helicopters alleges that the pilot, also killed in the crash, flew during unsafe conditions. Read more here.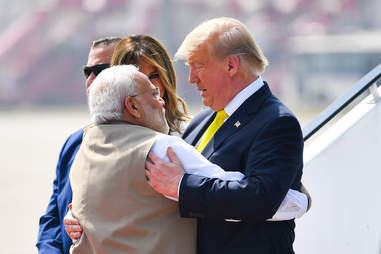 Getty Images
4. The Trump-Modi bromance continues, this time in India
President Donald Trump is in India today, where he and first lady Melania Trump have visited the Taj Mahal and attended a "Namaste Trump" rally at the world's largest cricket stadium. That rally, hosted by Indian Prime Minister Narendra Modi, was the international sequel to last year's "Howdy Modi" rally that Trump hosted in Houston, Texas. The two leaders, who have both been criticized for authoritarian actions in their respective democracies, have quite the bromance going on. Modi hopes that Trump's support will benefit U.S.-India policy, while Trump is capitalizing on his friendship with Modi to try and court Indian American voters. A Politico story on the event featured this incredible quote from one Gautam Patel who attended the rally: "I like Trump… He's got the verbal diarrhea but that's okay… I love him." Speaking of which, social media had a field day with Trump's pronunciation of various famous Indian names. Watch here.
Know This: Not everyone in India is as welcoming of Trump as Modi. Activists called out the Indian government for hastily building a wall around a slum in the city where the rally was held, accusing them of wanting to "hide" the more than 2,000 people who live there. According to the World Bank, about 22% of Indians, or 273 million people, live below the poverty line. Protests over a new anti-Muslim citizenship law enacted by Modi have also been raging in India for months. Three people were killed in protests in Delhi just before Trump's visit. U.S. officials said they will raise the issue of religious freedom while there, but today, Trump praised Modi while neglecting to mention the ongoing protests or the tense situation in Kashmir.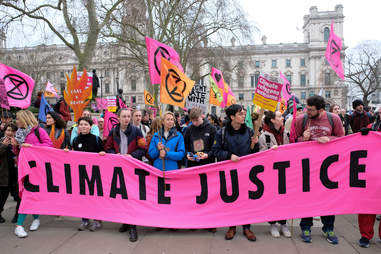 Getty Images/ Extinction Rebellion stages a climate change protest and march in London on February 22, 2020.
5. If you wanna be my lover… how do you feel about the climate crisis?
Compatibility is a complicated thing, and OkCupid has questions that plenty of us have had to suffer through a bad date to get answers to: What is your stance on marriage equality, gun control, and voting? Oh, and what about climate deniers? The app recently began allowing users to filter out potential matches based on how they respond to questions about climate change. More than 4 million users have already included climate change questions on their profile, with a spokesperson noting that younger daters are more "concerned about climate change," according to Digital Trends.
Know This: OkCupid has gotten more attention since rolling out its hard-to-miss ad campaign on New York City subways that feature taglines such as, "It's ok to not date a man who won't vote for a woman," and "It's ok to choose to only date someone who's pro-choice." 
 
Today was a pretty emotional news day — we recommend taking a breather tonight. As Jimmy Kimmel said at the end of the Kobe Bryant memorial: "Don't forget: Work hard — and hug the people you love."
 
We'll see you tomorrow.
 
-Natalie Daher, Multiplatform Writer & Editor, and Versha Sharma, Senior Correspondent