KnowThis: A Projected Win For Brexit, YouTube's New Ban, & More
"No mistakes. Get Berxit done." — A real Conservative Party tweet during the UK's general election today.
Developing: An Apparent Win For Boris Johnson And Brexit In The UK
Britons voted in the UK's general election today, in an election thought to be crucial to shaping the future of Brexit — and according to the most recent exit polls tonight, it seems current Prime Minister Boris Johnson and the pro-Brexit Conservatives have held on to a clear majority in Parliament. Long lines were reported as voters showed up amid a divisive political landscape — the only bright spot seemed to be #dogsatpollingstations, which trended nationwide as voters posted pics of their doggy friends outside polling stations.
 
Jeremy Corbyn, leader of the opposition Labour Party, has been back and forth on whether he supports a Brexit deal. He also said he's supportive of a second referendum, during which Corbyn says he would stay neutral. Critics think his unclear position on the polarizing issue did damage to Labour, which lost a huge number of seats, according to the exit polls. Corbyn also grappled with accusations of anti-Semitism, while female politicians cited online and offline threats and abuse as reasons for not seeking re-election. This is the third general election in Britain since 2015, and voters decided on representatives for their local districts in Parliament (Parliament decides on the country's laws, and the parties choose prime minister). Today's vote also comes on the heels of last month's London Bridge terror attack that left two stabbing victims dead. Official results are expected tomorrow, Dec. 13.
Know This: One major thing to watch: how Scotland voted. Early results show they overwhelmingly handed seats to the popular Scottish National Party, which means a second independence referendum for Scotland may be coming soon — and this time, it's more likely to pass. The election might not just mean Britain exiting from the EU; it could also mean Scotland exiting from Britain.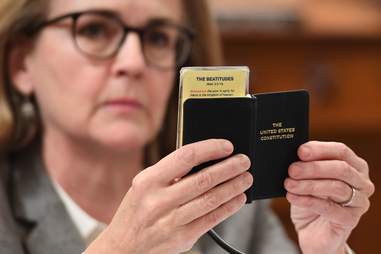 Getty Images / Democratic Rep. Madeleine Dean holds a copy of the U.S. Constitution during the House Judiciary Committee's markup of House Resolution 755, Articles of Impeachment Against President Donald Trump.
Articles Of Impeachment Finalized And The Reason For All Those Trump Tweets...
Here's what's new in im-peach-ment land: today was one of Trump's most active days on Twitter (like, in years!) with the president tweeting or retweeting more than 80 times before mid-afternoon. As a reference, he hasn't tweeted that much since announcing his candidacy in 2015. One tweet at a time, Trump is contesting and dismissing Democrats' allegations against him in real time — as the House Judiciary Committee has been debating today for hours as members finalize articles of impeachment against him. Republicans went all in, trying to introduce amendments that refute the abuse of power charge (they failed) and attempting to discredit former Vice President Joe Biden's son Hunter and his involvement with a Ukranian gas company using personal attacks. Democrats overcame those interruptions and doubled down on their assertions of wrongdoing by President Trump. "This is the highest of high crimes and President Trump must be held accountable," Rep. Karen Bass (D-CA) said to The New York Times. The committee is still in session and expected to approve the articles tonight. The full House of Representatives is expected to vote on impeachment next week.
Know This: House Speaker Nancy Pelosi was asked by reporters what she is telling moderate Democrats who may not be decided on their impeachment votes. Her response: "We are not whipping this legislation, nor would we ever whip something like this. People have to come to their own conclusions," she said.
Reuters
Protests Erupt As Muslims Are Excluded From India's New Citizenship Law
Protests have erupted in India after a new citizenship law that excludes Muslims passed Parliament and was approved by President Ram Nath Kovind. The Citizenship Amendment Bill (CAB) offers citizenship to migrants of six religions from neighboring countries… but not if the migrants are Muslim. There are 200 million Muslims in India, and many are pointing out the discriminatory nature of the bill and saying it makes them feel like second-class citizens. The government — led by Prime Minister Narendra Modi, who favors Hindu nationalists — says the religious group is not included because Muslims are not considered persecuted minorities in Pakistan, Bangladesh, and Afghanistan. Other critics worry there will be an influx of immigrants from neighboring countries as a result. In defense of Muslims, demonstrations exploded through major cities in India yesterday and today, and troops have been deployed in response. At least two people are reported to have been shot dead since the clashes began.
Know This: The law is already being challenged in India's Supreme Court. The Indian Union Muslim League, a political party, has petitioned the country's top court to declare the bill illegal.
Getty Images
Why Did YouTube Just Introduce A New Ban On Its Platform?
YouTube will no longer allow content that "maliciously insults someone" based on "protected attributes" like race, gender identity or sexuality. The update to the company's harassment policy is in response to the harassment of Vox journalist Carlos Maza, who hosts videos on the news outlet's YouTube channel. Maza was constantly targeted by Steven Crowder, a conservative Canadian American commentator who made remarks about Maza's sexuality, background, and more. The Vox journalist said he was persistently abused by Crowder and his 4M+ subscribers, who allegedly harassed Maza online. We spoke to Maza earlier this summer about the death threats he received when he initially called attention to Crowder's harassment, as well as what he calls a "systematic YouTube-wide problem" (watch here). At first, YouTube said it found that the videos did not violate its policies, though the company did demonetize his channel, restricting the YouTuber's ability to earn ad revenue. YouTube's new policy means that Crowder's videos about Maza now violate those guidelines and will be removed.
Know This: YouTube says the rule applies to anyone and everyone who uses the platform. "Beyond threatening someone, there is also demeaning language that goes too far… We will no longer allow content that maliciously insults someone based on protected attributes such as their race, gender expression, or sexual orientation. This applies to everyone, from private individuals, to YouTube creators, to public officials," Matt Halprin, vice President, global head of trust and safety, said. Meanwhile, Maza's reaction to the updates is "extreme skepticism" — read his Twitter thread here.
Giphy
The Key Search Words Of 2019
If you are what you Google, then I guess the world is a bit curious. Google has posted its Year in Search 2019 announcement, and its yearly recap video (which always leaves me with all the feels, tbh) dedicated "to everyone using their powers to empower others." The announcement lists the trending terms and searches which had the highest increases this year. "Trending" means the terms with the largest search volume increases compared to 2018. Among them are: What is Area 51?, What is a boomer? (Ok boomer!), and one term I'm still confused about… what is Momo? (Editor's note: It's about that creepy-looking sculpture that went viral and terrified parents everywhere unnecessarily! You probably don't want to click.) In the U.S., some the biggest searches were the Disney Plus streaming service, "Avengers: Endgame," and the illustrious iPhone 11. Ok Google!
KnowThis: "Old Town Road" was the #1 searched song globally, as well as in the U.S. Looks like Lil Nas X really is gonna riiiiide 'til he can't no more.
 
Thanks for reading! Let us know what your favorite story of the day is (we love reading your replies!). I'll see you tomorrow, Friday… finally.
—Zinhle Essamuah, KnowThis Host and Correspondent
Video Of The Day: