KnowThis: A Star Wars Plane, Hong Kong Election Results, & More
"The rule of law is what sets us apart from our adversaries. I cannot in good conscience obey an order that I believe violates the sacred oath I took." —former Navy Secretary Richard Spencer in a letter acknowledging he was fired after clashing with of Pres. Trump.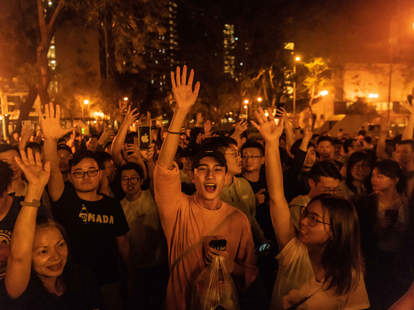 Democracy Wins In Hong Kong Elections After Months of Violent Unrest
We've been covering the ongoing protests in Hong Kong for some time — and this weekend marked a major win for the pro-democracy movement in local elections, which saw record voter turnout. Of the 452 elected district council seats, pro-democracy candidates won almost 90% during yesterday's elections — a massive increase from before. More than half of the districts flipped from pro-Beijing (a.k.a. pro-Chinese government) to pro-democracy. Candidates considered to be Beijing allies walked away with only 58 seats.
 
Election authorities said that 71% of 4.1 million registered voters cast their ballot. That's a huge increase from the last district council elections four years ago, where only 47% voted. It seems months of young voter engagement worked. Some were worried that possible violent unrest would prevent or deter people from voting, but protesters largely avoided any demonstrations at the polls.
KnowThis: China responded to the landslide pro-democracy results by doubling down on its stance that Hong Kong will continue to be controlled by Beijing. Here's foreign minister Wang Yi: "No matter how the situation in Hong Kong changes, it is very clear that Hong Kong is a part of Chinese territory. Any attempts to disrupt Hong Kong or undermine its stability and prosperity will not succeed."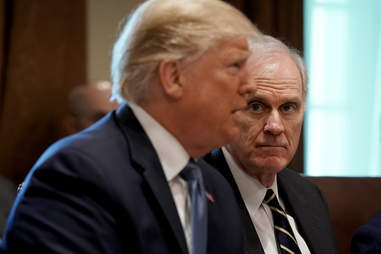 Getty Images
Navy Secretary Forced To Resign Over Clash With Trump
After going head to head with President Donald Trump over a controversial Navy SEAL case, Richard Spencer has been ousted as secretary of the Navy. In an extraordinary letter on his way out, he rebuked Trump for what he says is a betrayal of "the rule of law" and "the key principle of good order and discipline."
 
"I cannot in good conscience obey an order that I believe violates the sacred oath I took in the presence of my family, my flag and my faith to support and defend the Constitution of the United States," he wrote. (Read the full letter here.)
 
Here's what happened:
The Navy demoted Eddie Gallagher, a Navy SEAL, after he was convicted of posing for a photo with the corpse of a teenage ISIS fighter in Iraq.
Gallagher had also been reported by other SEALs for alleged war crimes, including murdering the teen after he was in captivity and firing his weapons without impunity, but he was acquitted of those charges by a court-martial.
President Trump reversed the demotion on the advice of Fox News pundits and against the advice of Spencer and other Navy leaders, including an admiral. (Trump also pardoned an Army soldier who was convicted of war crimes and another Army soldier who was facing murder charges next year.)
The Navy began an administrative review of Gallagher's case to see if he should be demoted from the SEALs, which Spencer supported. Trump was not happy about this.
Spencer was frustrated with Trump's involvement in these controversial cases and the fact that Trump wasn't allowing Navy investigations to run their course. After clashing with the president and Defense Secretary Mark Esper, Spencer was forced out.

KnowThis: There are now conflicting claims about the circumstances regarding Spencer's ouster, including from the Department of Defense. Some news reports said Spencer resigned, but he was very clear about that in his letter, writing: "I hereby acknowledge my termination." He was forced out. And echoing what he wrote about good order and discipline, he said in a CBS News interview today that he thinks the message Trump has sent the troops is that "you can get away with things."
Getty Images
Women's March Announces 2020 Plans To Take On Trump
Today, the Women's March organization announced the date of its next march — the last one before the 2020 election. On January 18, 2020, there will be another Women's March in Washington, D.C., the theme of which is Women Rise. "This is our chance to finish what we started three years ago, and remove Trump from office," organizers said in a statement.
 
More than 4 million people marched in the first event in 2017, which was the day after President Trump's inauguration. The 2020 event will serve as a platform for people to voice their stances on three key issues: 1) reproductive health, rights, and justice; 2) climate justice; and 3) immigration. Organizers said they polled "the vast Women's March base" to identify these three as the main issues driving women to the polls. The organization will partner with others like Planned Parenthood, the League of Women Voters, and Greenpeace USA "to demand that our country becomes a place that works for all of us, not just an elite few."
KnowThis: What was originally just going to be a one-day march evolved into a national movement that inspired hundreds of women to run for office and trained women in direct action and activism. In 2020, Women's March is planning a whole national week of action leading up to the march. Find out more here.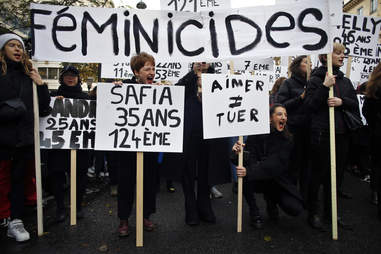 Associated Press
France Pledges To Fight The Domestic Violence Plaguing The ountry
After months of discussion and a weekend of protests from tens of thousands of people, France's government has announced new measures to tackle domestic violence. An AFP investigation found that a woman in France is killed by a partner or former partner every three days — one of the highest domestic violence rates in Europe. 115 women have reportedly been killed in acts of domestic violence so far this year, though advocacy groups say the number is higher. President Emmanuel Macron has called it "France's shame."
 
The new pledge from Prime Minister Édouard Philippe includes:
seizing firearms from abusive spouses (also a problem in the U.S.)
better training for police responding to incidents
increased penalties for harassment
expanded use of electronic bracelets for offenders
more room in shelters for survivors of domestic violence

The plans will go into effect in January 2020. The government says it will allocate €360 million in additional funding to implement the new measures.
KnowThis: Today is the International Day for the Elimination of Violence against Women, which the French government took into account when announcing these new measures. The day began in 1981 in remembrance of the Mirabal sisters, political activists who were murdered in the Dominican Republic.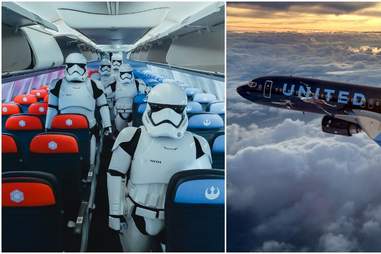 United
This New Star Wars Plane From United Will Make You Feel One With The Force
Next time you're flying the friendly skies, don't be alarmed if you see a giant red lightsaber coming your way — it's just the new plane from United Airlines in partnership with "Star Wars," which promotes the next movie coming out in December. "Star Wars: The Rise of Skywalker" is the final installment in the 9-film space opera (or so they say). United's giant flying ad is a beauty to behold — designed by the executive creative director of Lucasfilm and United, it features the Dark Side of the galaxy painted on one side of the plane and the Light Side on the other, including lightsabers and TIE fighters. Seats inside the cabin are evenly divided between the Resistance and the First Order, as well. The Boeing 737-800 made its first flight from Houston, TX, to Orlando, FL, earlier this month, and passengers were greeted by stormtroopers and BB-8 at the gates. The plane will reportedly be flying in North America, Central America, and the Caribbean. Check it out here.
KnowThis: To try and book a "Star Wars" flight, the plane can be found with its tail number: N36272. You can check out its routes on sites like FlightAware — where its icon shows up as an X-wing starfighter instead of a normal boring airplane! — and see if you can get lucky with a future booking on similar routes.
 
On a related note: Have you heard about Baby Yoda yet? The internet (and we) are already obsessed! The cutest creature in the galaxy popped up on "The Mandalorian," the original "Star Wars" show that's exclusively on Disney+, featuring Pedro Pascal as a bounty hunter. (That's one way to get people to sign up.) Baby Yoda will no doubt be the hottest toy this holiday season. We accept gifts. Just saying. Also GIFs.
 
Happy Monday and here's looking forward to a short holiday week — see you tomorrow. Thanks for reading.
 
—Versha Sharma, Senior Correspondent, NowThis
Video Of The Day: