KnowThis: Bomb Cyclones For Thanksgiving, A Jewelry Heist, & More
"Presidents are not kings." —Federal judge ruling that Trump can't stop witnesses from testifying.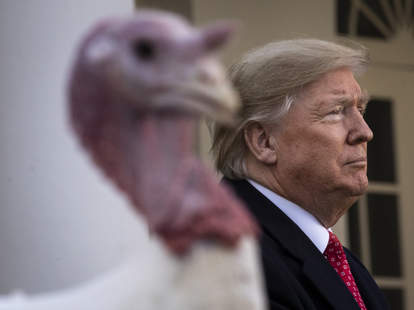 The Next Phase Of The Impeachment Process Is Here
It may be a holiday week, but the news ain't slowing down: Today, the House Judiciary Committee announced that its first public impeachment hearing will be Wednesday, December 4 — a week from tomorrow. The hearing will focus on "constitutional grounds for presidential impeachment" and will feature legal experts and constitutional scholars explaining to Congress (and the public) how to define an impeachable offense — and whether President Donald Trump specifically has committed any. The House Intelligence Committee, which just held two weeks of public hearings with fact witnesses about the Trump-Ukraine scandal, is currently working on its formal report regarding everything we've learned and will submit it to Judiciary, likely next week as well, to be considered in these next steps.
 
Rep. Jerry Nadler (D-NY), chairman of the House Judiciary Committee, wrote to Trump today to ask if he or his lawyers would like to participate in the Dec. 4 hearing. Here's his statement: "The President has a choice to make: he can take this opportunity to be represented in the impeachment hearings, or he can stop complaining about the process. I hope that he chooses to participate in the inquiry, directly or through counsel, as other Presidents have done before him." So far, Trump's only response has been to make some impeachment jokes at the annual turkey pardon.
KnowThis: Yesterday, a federal judge ordered former White House Counsel Don McGahn to stop ignoring his subpoena and testify before Congress, dismissing Trump's claim that White House officials have "blanket immunity." U.S. District Judge Ketanji Brown Jackson wrote: "Stated simply, the primary takeaway from the past 250 years of recorded American history is that Presidents are not kings. It is indisputable that current and former employees of the White House work for the People of the United States, and that they take an oath to protect and defend the Constitution of the United States." The Trump administration has already made moves to appeal that ruling.
Associated Press
Doesn't This Bomb Cyclone Know It's Thanksgiving?
If you're heading out of town today or tomorrow, you're not alone — in fact, you're one of an estimated 21 million people in the U.S. trying to get home for Thanksgiving. And we've got bad weather news for the busiest travel days of the year: Meteorologists say two major storms could cause havoc across almost the entire country this week, including a rare "bomb cyclone" on the West Coast. The National Weather Service said that people should avoid travel in southern Oregon and Northern California and that "driving will become difficult to impossible" in some areas in the Midwest at the height of their storm.
 
Then there are the snowstorms that have already disrupted travel: More than 1,100 passengers had to sleep at the Denver International Airport last night, according to an airport spokesperson. 470 flights were canceled. Boulder, Colorado, has already seen 32 inches of snow and might get another 10-12 (!) this week. This amount of snow is arriving unusually early in the year — extreme snow in the U.S. is linked to the climate crisis, as warmer ocean temperatures can contribute to more severe snowstorms.
 
At least some airlines are waiving fees for people who want to try to reschedule — it's worth looking into if you haven't left for the airport yet!
KnowThis: The people most impacted by severe weather are those who are already vulnerable. In Los Angeles, the Homeless Services Authority announced today that it's opening some emergency shelters ahead of the planned winter schedule for people to escape the coming storms.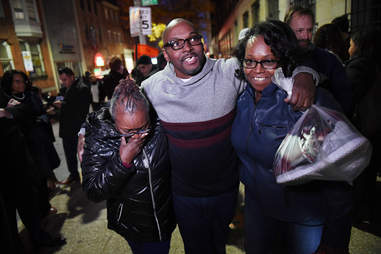 Getty Images
Three Men Freed After 36 Years In Prison — For A Crime They Didn't Commit
Three childhood friends — Alfred Chestnut, Ransom Watkins, and Andrew Stewart — walked out of a Baltimore prison yesterday, free after 36 years. They were imprisoned for a crime they didn't commit. "On behalf of the criminal justice system, and I'm sure this means very little to you, I'm going to apologize," Baltimore Circuit Court Judge Charles Peters told the trio after legally declaring them innocent.
 
In 1983, a 14-year-old was shot in what was "the first killing in a Baltimore city school," according to The Washington Post. The death shocked the city, and though some witnesses reported that the young teen had been killed by 18-year-old Michael Willis, prosecutors went after three 16-year-old boys who had skipped school that morning: Chestnut, Watkins, and Stewart. They were convicted of murder and sentenced to life in prison.
 
Over the course of the next 36 years, the three men maintained their innocence. Willis was killed in a shooting in Baltimore in 2002. Chestnut in particular kept up with local news, and when he saw city prosecutor Marilyn Mosby on TV this May talking about reversing wrongful convictions, he wrote her a letter. Mosby, who was elected in 2015 and is the youngest chief prosecutor in the nation, has made criminal justice reform a central issue in her work. She's expanded the city's Conviction Integrity Unit, which researches old cases. And it's resulted in the release of men like Chestnut, who had this to say upon leaving prison and being reunited with friends and family: "This is overwhelming. I always dreamed of this. My mom, this is what she's been holding on to forever. To see her son come home." (This whole piece is worth a read.)
KnowThis: Mosby is focused not just on reviewing old cases that may have put innocent people in prison, but also on what comes after people are freed. She's created a Resurrection After Exoneration program that points people to health services, education, housing, and job opportunities. "It's important and incumbent on us, as the system that has wronged them, to be able to take accountability," she said.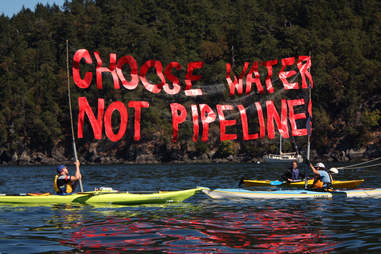 Getty Images
The Keystone Pipeline Spill Is 10x Worse Than We Thought
Officials say an oil spill by the Keystone Pipeline in North Dakota has impacted 23,232 square yards of land — about 10 times more than the original estimate of "about 2,500 square yards." The Keystone 1 Pipeline leaked almost 400,000 gallons of oil into surrounding wetlands in late October and was temporarily shut down. It "returned to service on November 10 following approval by the U.S. Pipeline and Hazardous Materials Safety Administration," according to operator TC Energy. But we're only just now finding out the real impact of the spill, which is "exactly the kind of spill" community organizers have been worried about, according to Joye Braun of the Indigenous Environmental Network.
KnowThis: Remember Standing Rock? Indigenous communities have been at the front line of protesting the expansion of the Keystone Pipeline, as well as the Dakota Access Pipeline, both for environmental hazards and because of planned routes where pipelines would cut through tribal lands. The Keystone XL expansion has been approved for construction starting in 2020 by President Trump.
Reuters
German Jewelry Heist: Ax-Wielding Thieves Steal Royal Rubies
You know how in heist movies, you see people robbing museums by smashing the glass and taking priceless artifacts, and it seems unlikely they could actually get away with it? Well, in real life, in Germany, they just did, stealing more than 100 "priceless" treasures from the famed Green Vault in the Royal Palace in Dresden. Police have released CCTV footage of how it went down, and it's actually more like a movie heist than we expected: The robbers used an ax to break into glass cases. Watch it here. According to police, at least two suspects set an electrical panel near the museum on fire, which deactivated the alarms and took out street lighting. Then they broke into the museum, smashed display cases, and stole 18th-century jewelry before fleeing in an Audi, which they later ditched and set on fire. A police statement said "the whole act lasted only a few minutes." Security guards at this museum are unarmed and weren't able to intervene in time. The suspects are still on the run.
KnowThis: What did they steal? Diamonds, rubies, pearls, and more: police have released images of the Saxon-era jewelry here. The museum art director says it's difficult to calculate the worth of everything that was stolen "because the work is considered unsellable" — experts think the jewelry is "so identifiable" that it will be difficult for the robbers to sell it on the open market. But others worry they'll break the pieces apart in order to remove precious gemstones and sell them separately.
 
That's it for today — thank you for reading! If you are traveling for the holidays, be safe out there, best of luck, and maybe bring an extra book along in case of any delays. We'll see you tomorrow.
 
—Versha Sharma, Senior Correspondent, NowThis
Video Of The Day: