KnowThis: California's Travel Ban & The "Graphic" Commercial Banned From The Oscars
Plus what we know so far about the New Hampshire primary.
1. Happening now: the New Hampshire primary
Today is the New Hampshire presidential primary election, and we're hoping things go smoother than in Iowa, where the results are still kind of unclear (results seemed to indicate former South Bend Mayor Pete Buttigieg won the most delegates by a hair, but both the Buttigieg and Sen. Bernie Sanders campaigns have asked for a "partial recanvass" of results). New Hampshire's much simpler election system is a traditional primary with *paper ballots hand-marked by voters* that are tallied through a machine, so there's hope for some clarity by the end of the night. Sanders shows promising signs of coming out on top — as a senator from neighboring Vermont, he's had name recognition in the state for years and easily won the primary there in 2016. Sanders is also popular among independent voters (having served as an independent senator himself), and New Hampshire has a surprisingly high percentage of undecided and independent voters, at 42% of its registered electorate. Buttigieg will be looking to either best Bernie or at least place a close second to maintain his momentum from Iowa. Biden has already admitted he will probably take another hit in New Hampshire, as he did in Iowa, but he could gain steam in upcoming caucuses and primaries — which have much more diverse electorates and where he's polled higher. One of the open questions is whether Biden, Sen. Elizabeth Warren, or Sen. Amy Klobuchar will come in third — recent polls show the two women polling higher than the former vice president in the state. But if the race was based just on time spent in New Hampshire, Andrew Yang and Rep. Tulsi Gabbard would be in the lead, according to this reporter's tracker: Yang hosted 131 public events in the state, and Gabbard even rented a house there to make campaigning easier.
Know This: Look out for the results from New Hampshire on our website and Facebook page. We'll also be live-streaming events around the state and speeches from the candidates. As a reminder and for some perspective, New Hampshire has 33 delegates to give Democratic candidates, who need 1,990 nationwide to win the nomination. The state has 4 votes in the Electoral College.
2. California has a travel ban to 11 states and Texas is suing
Texas is suing California over a law that bans state-sponsored travel from Cali to places with anti-LGBTQ+ legislation. California enacted its travel ban in 2016 after North Carolina passed a law requiring people to use bathrooms that correspond to their biological sex at birth. This means California state employees, as well as employees and athletes at its state schools, cannot use government money to travel to North Carolina and 10 other states it has since added to the list. Texas was added in 2017 after the state passed a law that allows child welfare providers to refuse service to people on the basis of religion (which could discriminate against LGBTQ+ children or people looking to foster or adopt children). In a lawsuit filed yesterday in the U.S. Supreme Court, the Texas attorney general likened the ban to "economic sanctions against Texas, Texas citizens, and Texas businesses" by preventing Californians from spending money there. (Note: The law just applies to government money.) The Texas lawsuit also says the travel ban is an attack on people's religious freedom: "In California's so-called forward thinking, it is not enough to burden religion in California; it must go further and coerce other States to increase burdens on religion within their own borders," the filing says.
Know This: Texas is urging the Supreme Court to find California's law unconstitutional, which threatens the ban on 10 other states, as well. The lawsuit points to the infamous Supreme Court decision in 2018 favoring a Christian Colorado bakeshop owner who refused to sell a wedding cake to a same-sex couple.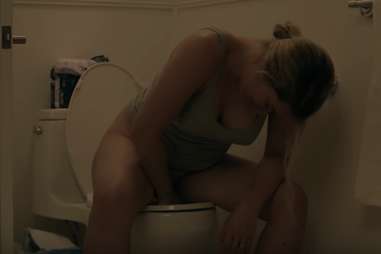 3. The "graphic" commercial you didn't see during the Oscars
An ad for products to help postpartum moms was supposed to air during the Oscars, but ABC and the Academy rejected it for being too "graphic." Now the 60-second commercial is gaining attention and millions of views online after the company Frida Mom posted it on YouTube. The ad shows a new mom waking up in the middle of the night, struggling to use the bathroom, and utilizing different products to help, including mesh underwear. The ad ends by saying, "Postpartum recovery doesn't have to be this hard," followed by products the company sells. In the video's caption, the company calls out ABC and the Oscars for rejecting the ad from airing during the awards show: "It's not 'violent, political' or sexual in nature. Our ad is not 'religious or lewd' and does not portray 'guns or ammunition'. 'Feminine hygiene & hemorrhoid relief' are also banned subjects. It's just a new mom, home with her baby and her new body for the first time. Yet it was rejected. And we wonder why new moms feel unprepared," the company says.
Know This: The video gained attention after actor Busy Philipps saw it and reposted it on her Instagram with an emotionally charged caption (and a lot of truths). Read her powerful words here.
4. The new Samsung flip phone is making us nostalgic
Samsung released a new flip phone today, and our 2007 nostalgia is popping off. The Galaxy Z Flip is a smartphone (unlike our Razrs way back when) and less than 7 inches when extended. It's super thin, with screens on the inside and outside (!), and made to stand the test of time, according to the company. It comes at a high price, though: $1,380 (which is actually less than its Razr-reboot competitor from Motorola).

Other cool updates and releases from Samsung's Unpacked press event today in San Francisco: The new S20 Ultra phone has 100x zoom, there's a new feature that lets S20 users share their Bluetooth connection with other S20 users, and there are new earbuds. Pre-orders for the Galaxy S20 series begin February 21, and the foldable phone is available in stores starting Friday.
Know This: Today is International Day of Girls and Women in Science! (We just thought that was relevant here.) The UN says it established this day "to recognize the critical role women and girls play in science and technology." At a conference for women in tech a few months ago, Samsung exec Michelle Crossan-Matos spoke about the importance of gender diversity in tech — and more importantly, how to make it happen. Join the fun and share your favorite story of woman trailblazers in science.
5. Debunking the #BroomChallenge
Videos of the #BroomChallenge are all over the internet — but the claims that started the challenge are based on unsupported science. The challenge followed a viral tweet shared more than 60,000 times, which claimed that NASA said yesterday was the only day a broom could stand on its end because of Earth's gravitational pull. Turns out, that's not true. "This is another social media hoax that exemplifies how quickly pseudoscience and false claims can go viral," NASA public affairs officer Karen Northon told USA TODAY.
KnowThis: NASA also pointed out you can actually balance a broom upright any day. A broom's center of gravity is low, so all you have to do is get the bristles to position like a tripod and voila!

Thanks for sticking with us today! See you tomorrow.

-Sari Soffer, Supervising Producer, NowThis