KnowThis: Can You Take Your Leftovers On A Plane?
Be thankful for what you have; you'll end up having more. If you concentrate on what you don't have, you will never, ever have enough." —Oprah Winfrey.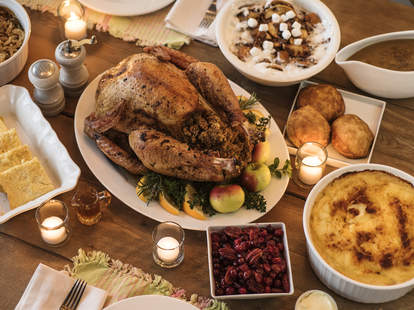 So, Can You Take Leftovers Onto The Plane?
Just in case you're wondering if you can lug home your favorite Thanksgiving foods (go ahead, it's sustainable!), we checked the TSA rules for you. Fortunately, most solid foods are allowed on the plane with you. Food that's not liquid or gel can be transported in your carry-on or checked bags, but they still have to be X-rayed, and TSA officers have the final say on whether you can take them on your flight. TLDR, some pie or literally just a bunch of extra dinner rolls should be good to go. Cooked meat and seafood is allowed in your carry-on, so you could, if you really wanted to, travel with a whole roasted turkey — as long as it fits in the overhead bin.
 
Frozen foods are allowed in carry-on and checked bags, but if you're also bringing ice packs to keep them frozen, they must be completely solid when going through security. Ice packs or gel packs that are partially melted won't make it past the scanners.
KnowThis: Boozy beverages bigger than 3.4 oz can fly with you in your checked luggage, but they have to contain less than 70% alcohol, so leave the moonshine behind.
Associated Press
Food Waste Is A Huge Problem After Thanksgiving
We get it. You had big eyes this Thanksgiving, and now you have a ton of leftovers. But keep in mind that you are just one of millions of Americans with leftovers this holiday, in a country where we waste, on average, 40% of our food each year. If that remains true today, we're looking at 172 million lbs of turkey, 40 million lbs of mashed potatoes, 35 million lbs of cranberry sauce, 30 million lbs gravy, and much, much more food waste after yesterday's big meal.
 
In a country where the USDA estimates 14.3 million households are food insecure in the U.S., donating food is a great option (here's how). Throwing out your leftovers is also harmful to the environment. First, it's wasteful: Producing just 1 pound of turkey uses the same amount of water as taking a 130-minute shower and produces the same amount of greenhouse gases as driving 11 miles in an average vehicle, according to the Environmental Working Group. All that for just one pound, and you're very likely dumping more than that. Second, waste doesn't disappear: Food waste is the largest component of U.S. landfills and contributes to the third-largest source of human-induced methane emissions.
 
A few ideas to manage your leftovers: Donate what's left to people in need, freeze what you might use later, and plan your next week of turkey-themed dinners.
KnowThis: Between Thanksgiving and New Year's, Americans throw out 25% more garbage, according to the Environmental Protection Agency. That includes food, but also wrapping paper, decorations… all of it. Keep that in mind while shopping the Black Friday sales today — bring your reusable tote and JUST SAY NO to the extra ribbons and tissue paper!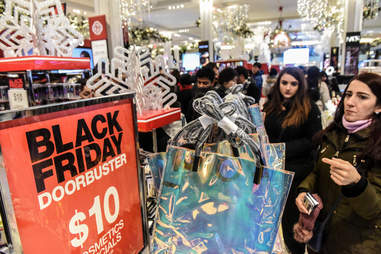 Reuters
Also Bad For The Environment: (Fast) Fashion Splurges On Black Friday
Black Friday is not just fueling the global capitalist economy, it's also helping fuel the global climate crisis. Clothing and footwear industries account for more than 8% of global climate impact — consuming and polluting huge amounts of water during the process. So if you're looking to limit your carbon footprint this Black Friday, check out this vlogger, who has the stats on fashion waste and tips for living more sustainably (We have many more tips on our series "One Small Step"!)
 
If you want to indulge, there are companies like Ikkivi that pride themselves on being "slow fashion"; or conscious companies like Azura Bay, which sells eco-friendly lingerie and loungewear; or Sabai, which sells furniture made from natural fibers and recycled bottles. More well-known brands like Timberland, Everlane, and Patagonia also have eco-friendly initiatives and can generally be trusted not to feed you false information about not so "sustainable" products. If you're skeptical, ethicalconsumer.org has an ethical rating system that gives you detailed research on more than 40,000 companies, brands, and products. But if you're looking to play it safe, a good rule of thumb is just to buy less and better quality.
KnowThis: If you're looking to avoid contributing to the sh*tshow that is Black Friday in general, we suggest Kotn. The ethical clothing store's website comes with a warning: "From Black Friday to Cyber Monday, we're not going on sale." Instead, the company is donating 100% of its profits during that time to build schools for children in the Nile Delta and Faiyum, Egypt — where cotton for its collection is grown.
NowThis News
Ease Back Into The News Cycle With "Who Is?" (The Podcast)
If you're looking for more to do this holiday weekend, or your next favorite podcast, we've got the perfect thing for you! We now have four episodes out of "Who Is?," the podcast, hosted by NowThis correspondent Sean Morrow, which dives deep into the history and lives of America's most powerful politicians. So far, we've covered Senate Majority Leader Mitch McConnell, the sibling duo of Education Secretary Betsy DeVos and Erik Prince, Chief Justice John Roberts, and Sen. Elizabeth Warren. This is fascinating info that's more entertaining than what you'd get from reading their Wikipedia pages — trust us.
KnowThis: We partnered with iHeartRadio to produce the series — to listen and subscribe, search "Who Is?" on the iHeartRadio App or wherever you get your podcasts.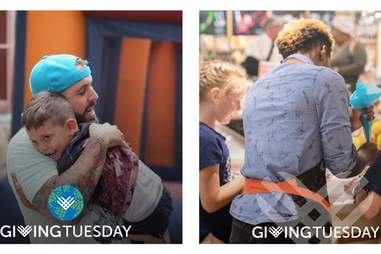 https://www.givingtuesday.org/
A Look Ahead At #GivingTuesday
There's still Small Business Saturday and Cyber Monday to look forward to, but there's also the increasingly popular GivingTuesday. The event runs for 24 hours on the Tuesday after Thanksgiving, encouraging people to give their time, a donation, or the power of their voices to make an impact and celebrate generosity.
 
NowThis spoke with one of the co-founders of GivingTuesday, Asha Curran, who launched the movement in 2012 as a project of the NYC cultural and community center 92nd Street Y. Curran says #GivingTuesday was one of the first social media campaigns ever — it launched when hashtags were just becoming a thing. Since then, it's grown into a global movement with more than 200 local GivingTuesday movements in the U.S. and 60 country campaigns. According to the organization, #GivingTuesday has raised more than $1 billion online since it began. Curran adds that those numbers don't consider all the other acts of kindness people spread with a smile, donated time, or otherwise. We'll be publishing a video with Curran next week, where she also tells us about how the movement's leaders are disproportionately women and girls, and why that might be.
KnowThis: Young people are the most likely of any other age group to participate in GivingTuesday, according to the organization, which says 67% of people between the ages of 18-34 who are aware of the movement participate in some way. Curran also has a fascinating take on why, including the rise of a generation that simply won't accept injustice.
 
That's it for this holiday week — enjoy the long weekend and we will see you Monday!
 
—Christina Cocca, News Director; Sari Soffer, Supervising Producer; and Versha Sharma, Senior Correspondent (Thanksgiving team effort!)