KnowThis: Coronavirus, "Marsquakes," & More
What you need to know about a coronavirus outbreak in the U.S., plus more top stories from the day.
1. Officials on coronavirus in the U.S.: It's not "if" but "when"

Officials are warning Americans to prepare for the spread of coronavirus in the U.S. "It's not so much of a question of if this will happen in this country anymore but a question of when this will happen," said Dr. Nancy Messonnier, director of the National Center for Immunization and Respiratory Diseases. According to the CDC, there are currently 14 confirmed cases of coronavirus in the U.S., in addition to 39 cases of repatriated U.S. citizens from China or the Diamond Princess cruise ship that was quarantined in Japan. But health officials expect the spread to continue: "We cannot hermetically seal off the United States to a virus," said Secretary of Health and Human Services Alex Azar. The Trump administration has asked Congress to allocate $1.25 billion in emergency funds to prepare its response. In the meantime, the CDC says the National Institutes of Health and collaborators are working on developing medication or vaccines to treat the flu-like illness that causes a fever, cough, and shortness of breath. The most likely intervention would be canceling school and large group gatherings to prevent the spread.
Know This: The largest coronavirus outbreaks and deaths outside of China have occurred in South Korea (977 cases), Italy (322 cases), and Iran (95 cases). In Iran, the country's deputy health minister has tested positive for the virus, which you can read more about here.
2. Weinstein rerouted to hospital on the way to jail

After a jury found Harvey Weinstein guilty of criminal sexual assault and rape yesterday, the disgraced movie mogul was handcuffed and sent to Rikers Island in New York, one of the world's most infamous jails. But before arriving, Weinstein was rerouted to Bellevue Hospital on NYC's East Side due to "high blood pressure," according to his lawyer, who also said, "He's fine." After his conviction yesterday morning, Weinstein's lawyers asked if he could avoid lockup, citing his bad health, but the judge denied their request. Still, Weinstein remained in Bellevue through this morning, avoiding his first night behind bars after his highly publicized trial that became an example of post-#MeToo justice for women.
Weinstein's lawyers have already outlined their case for an appeal, according to Bloomberg News, which includes arguments about the number of jurors and the influence of other charges against Weinstein in Los Angeles. Weinstein is scheduled to be sentenced on March 11 in New York, and LA prosecutors are moving forward with their own case against him.
Know This: The jury of 7 men and 5 women found Weinstein guilty of two sex crimes related to two women, but he was found not guilty on three more severe charges that could have led to a life sentence in jail. Still, survivors and people around the world are calling this a win for the #MeToo movement and believing women — since the jury based its conviction solely on credible stories from survivors, rather than other methods like forensic evidence. Today, a group of the Silence Breakers who spoke out about Weinstein's sexual misconduct held a press conference on the verdict, which you can watch here.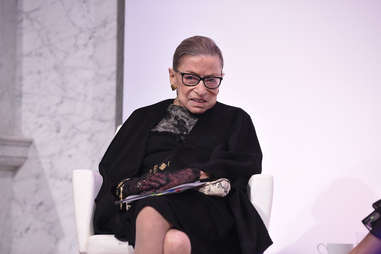 3. Big decisions at SCOTUS while Trump criticizes women justices

There's been a lot of news out of the U.S. Supreme Court in the past few days. Here are two important cases that specifically caught our eye:
Yesterday, the Supreme Court declined to consider an appeal in the case of Rodney Reed, the death row inmate in Texas who was found guilty of the rape and murder of 19-year-old Stacey Stites in 1996. We interviewed Reed, who denies the charges and has been in prison for more than 20 years, which you can watch as part of our "Wrongful Conviction" series. Lower courts are still considering separate appeals claims, so Supreme Court Justice Sonia Sotomayor says the door is not closed for the highest court to review future cases. "In my view, there is no escaping the pall of uncertainty over Reed's conviction. Nor is there any denying the irreversible consequence of setting that uncertainty aside," wrote Justice Sotomayor. Reed was granted an indefinite stay five days before his scheduled execution, meaning he no longer has a death date.
On the other hand, the Supreme Court said it would review a case between the city of Philadelphia and a Catholic foster care agency that refuses to work with same-sex couples. The 2018 lawsuit by Catholic Social Services (CSS) and three foster parents says the city is violating the First Amendment by not including CSS in its foster care system. City leaders say the agency's policy on same-sex couples goes against its non-discrimination policies.
Know This: President Trump also weighed in on the Supreme Court today, tweeting that Justices Sonia Sotomayor and Ruth Bader Ginsburg should "recuse themselves on all Trump, or Trump related, matters!" He echoed those same remarks at a news conference in New Delhi after Justice Sotomayor released a dissent on an immigration case in which she said the Trump administration claims "one emergency after another" by turning to the Supreme Court when it loses in the lower courts — which strains the court's resources. Trump accused Sotomayor of "trying to 'shame' some into voting her way" and called out Ginsburg for criticizing him before he was elected. Read more here.
4. 11-year-old girl brings AR-15 to Idaho gun legislation hearing

An 11-year-old girl had a loaded AR-15 assault rifle slung over her shoulder as she stood next to her grandfather at a legislative hearing in Boise, Idaho, yesterday. Charles Nielsen, grandfather of young Bailey, was speaking to the committee about a proposal that would allow out-of-state visitors who legally own a gun to carry a concealed weapon within Boise city limits. He said, "Bailey is carrying a loaded AR-15… She's been shooting since she was 5 years old. She got her first deer with this weapon at 9. She carries it responsibly. She knows how not to put her finger on the trigger. We live in fear in a society that is fed fear on a daily basis." An AR-15 weapon is not an unusual sight at Idaho's Statehouse, according to the Associated Press, especially when there's a debate about gun legislation. Last summer, Idaho passed a law allowing its 18+ residents to carry a concealed handgun within city limits without a permit or previous training.
Know This: Lawmakers voted to send the proposal to Idaho's full House for consideration, which means it could become one of a handful of states that allow visitors to carry concealed weapons.
5. "Marsquakes" are shaking up scientists' assumptions about the planet

NASA's InSight lander on Mars has detected hundreds of quakes (known as "marsquakes," if you will) that are surprising scientists. InSight landed on the planet in November 2018 and is the first mission exploring Mars beneath its surface. Just over a year later, its technology has detected more than 450 seismic signals deep toward the planet's core, which means their trembles were far milder than typical earthquakes, but suggests more activity within the planet than scientists were expecting. "This is the first mission focused on taking direct geophysical measurements of any planet besides Earth, and it's given us our first real understanding of Mars' interior structure and geological processes," said Nicholas Schmerr, an assistant professor of geology at the University of Maryland and a co-author of the seismicity study. Scientists say the quakes are largely due to long-term cooling of Mars' interior, a phenomenon that's also occurring on Earth. But the cause of each individual quake is still a mystery.
Know This: ICYMI: the newest branch of the U.S. military is known as the Space Force. Its first chief was sworn in last month, and GEN spoke to its second-in-command about what exactly the team does. Spoiler alert: It has nothing to do with protecting Americans against aliens and everything to do with protecting them against Russia or China.
See ya tomorrow!
Sari Soffer, Supervising Producer, NowThis