KnowThis: Coronavirus Updates & The Story Of The Last Known Slave Ship In The U.S.
"I was raised way better than that, so I would like to apologize publicly for the language that I used and calling you out your name." —Snoop Dogg apologizing to Gayle King after he harshly criticized her interview on Kobe Bryant's legacy.
1. Coronavirus deaths spike overnight
Just when officials thought the coronavirus outbreak was slowing down, nearly 15,000 new cases, including more than 240 new reported deaths, were announced today. That's a nearly 10-fold increase from earlier this week. The worldwide death toll has risen to approximately 1,300 and total confirmed cases to approximately 60,000, according to new data from Chinese health officials. Most of those cases were reported in China's Hubei province (its capital is Wuhan), where the virus was first detected in December. The spike in reported cases is partly a result of new testing methods. Previously, the flu-like respiratory illness was diagnosed through a swab test (causing patients to question the tests' legitimacy), but doctors have begun relying on reported symptoms and lung X-rays.
Know This: After thousands more cases were reported, China fired two top officials from the Hubei province for failing to properly handle the outbreak in its early stages.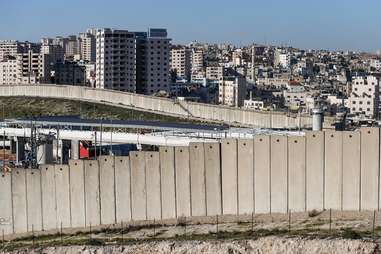 2. UN publishes "blacklist" of companies doing business in Israel's occupied territories
The United Nation Human Rights Office released a list of 112 companies that it says do business in settlements in occupied Palestinian territories, which some people have interpreted as an effort to hold businesses accountable for disrespecting international law. Most of the businesses are Israeli companies that provide services like supplying housing materials, utilities, or surveillance equipment to the long-disputed region. But American companies like Motorola Solutions, General Mills, and Airbnb were also named on the so-called "blacklist." Airbnb declined to comment to CNN, and General Mills acknowledged that the company has a factory in Atarot.

Under the UN's international law, more than 100 settlements — built and occupied in East Jerusalem and the West Bank, which Israel captured in the 1967 war with its neighboring Arab countries — are considered illegal and possibly part of a future Palestinian state. Israel and the United States oppose that designation: The Trump administration's 2020 Israeli-Palestinian peace plan paved a path for Israel to annex some of the land in question. The UN's blacklist came nearly four years after a 2016 resolution mandated that the office publish a public list of companies doing business in the disputed territories. Palestinian leaders have said they support the report, while Israeli leaders have called it "shameful" and anti-Israel.
Know This: The Boycott, Divestment, and Sanctions (BDS) movement has also supported the UN's list, calling for "strategic boycotts and divestment campaigns" against these companies. The UN has not supported the BDS movement or called for any specific action from governments or people as a response to the list.
3. Lawsuit targets transgender rights in Connecticut
A conservative religious group filed a lawsuit on behalf of 3 high schoolers in Connecticut, saying they are treated unfairly by the state's trans-inclusive student athlete policies. Connecticut is one of 19 states and D.C. (see the full list here) that allows athletes to participate on sports teams that align with their gender identity, without medical hormones or surgery required. The lawsuit says this policy has prevented girls — including the plaintiffs, who are track & field athletes — from winning competitions and scholarships and setting records because the state allows "boys who are male in every biological respect to compete in girls' athletic competitions if they claim a female gender identity." The ACLU has said it plans to defend two trangsender girls named in the lawsuit, Andraya Yearwood and Terry Miller, who have competed in girls' competitions in Connecticut. Read Yearwood's and Miller's powerful responses to the lawsuit here.
Know This: The lawsuit often misgenders Yearwood and Miller by calling them "male athletes" and categorizes athletes into biological genders by chromosome. In a statement, Chase Strangio, deputy director for transgender justice with the ACLU LGBT & HIV Project, points out the harm in the author's choice of words, calling it "an assault on the basic dignity and humanity of transgender people and a threat to the privacy and equality of all students." Language matters.
4. Since when is "ok boomer" the same as the n-word?
A white professor at the University of Oklahoma compared the popular "ok boomer" phenomenon to a racial slur: the n-word. On Tuesday, Peter Gade, the director of graduate studies for the Gaylord College of Journalism and Mass Communication, said "calling someone a boomer is like calling someone a n*****."

Gade has reportedly since apologized in an email to the class. "We weren't on the topic of race or discrimination or anything like that, or anything historical for that matter," Janae Reeves, a Black student in the class, told the OU Daily, a student outlet. Multiple students walked out following Gade's remarks. This isn't the first time such a comparison between the terms has made headlines. Conservative radio host Bob Lonsberry called "boomer" "the n-word of ageism" on Twitter. (Dictionary.com promptly replied, defining boomer and calling the n-word "one of the most offensive words in the English language.")

"This will not be tolerated or accepted and we expect full action to be taken against the professor and college," the OU Black Emergency Response Team said, and a student expressed shock in an interview with local media. The university's interim president said in a statement that the professor's comments were protected by the First Amendment, but denounced his word choice as "fundamentally offensive and wrong."
Know This: The George Washington University in Washington, D.C., is also making headlines for a university rep's remarks that sparked widespread outrage. A first-year student asked the school's president, Thomas LeBlanc, on campus if the university would divest in fossil fuels and close a research center if most students approved of such a measure. He did not know he was being recorded, according to The Washington Post. In response, the president said: "What if the majority of the students agreed to shoot all the Black people here? Do I say, 'Ah, well the majority voted?' No." LeBlanc issued an apology and met with student leaders and officials. FWIW, the GWU's official mascot and branding is the Colonial. As in: a colonist. Quite the problem for one of America's most politically active campuses.
5. Descendants of America's last known slave ship are fighting to preserve their history
The last known U.S.-bound slave ship, the Clotilda, arrived in Mobile, Alabama, in 1860. NowThis went to Alabama to uncover how the ship's remnants will help the Africatown community rise out of economic and environmental disaster. Haven't heard of the Clotilda? The backstory is: Timothy Meaher, a wealthy white landowner, placed a bet that he could bring a slave ship to the United States after the practice of importing slaves had been deemed illegal. His exploit was successful, and the Clotilda brought more than 100 enslaved Africans from modern-day Benin to the United States. Upon arrival, the ship was burned and never seen again until it was discovered by journalist Ben Raines and excavation crews last year. The story of the Clotilda had been largely viewed as lore, forcing descendants to preserve their own history.

Despite this community's preservation efforts, it has seen its share of challenges: About 20% of Mobile County lives below the poverty line. Africatown is also part of Alabama's Gulf Coast Chemical Corridor, and residents are suing companies for health damages they claim were caused by pollution from neighboring manufacturing sites. Through the discovery of the Clotilda, the community hopes to revitalize the town through a museum and other initiatives.
Know This: Want to learn more about Africatown? You can watch our full report here. Also, keep up with the latest Africatown happenings through the Mobile County Training School Alumni Association: http://www.mctswhippets.org/

To all the ladies out there, happy (official) Galentine's Day! We see you and we love you.

-Sari Soffer, Supervising Producer, and Zinhle Essamuah, KnowThis Host and Correspondent