KnowThis: Bloomberg's First Debate, Burger King Ad & More
Bloomberg took on his first debate last night, Burger King unveils a new moldy ad, and more stories.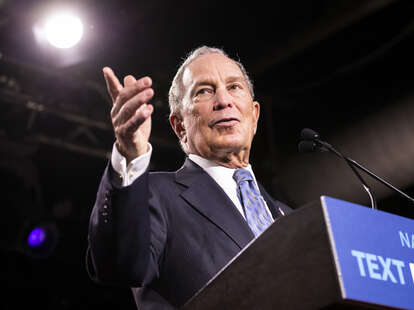 1. The Democratic debate stage had a *new* face last night

The ninth debate hosted by the Democratic National Committee (DNC) happened Wednesday night, and if this wild election has got your political apathy in full throttle, this one was worth tuning in to. Former New York City Mayor Michael Bloomberg is made his debut on the debate stage after the DNC changed its qualifying criteria to omit the threshold for outside donations. Bloomberg has used only his personal funds to run his campaign, spending a record-breaking $338.7 million on advertising so far. And his opponents are likely to take their attacks straight to his wallet (see Sen. Elizabeth Warren's and Sen. Bernie Sanders' recent tweets).
Get the full re-cap here.
Bloomberg is not competing in the Nevada caucuses on Feb. 22 or the next primary in South Carolina on Feb. 29. His plan has been to forgo the first four primary elections (including Iowa and New Hampshire) and focus all his efforts on Super Tuesday, where 14 states and one territory vote and where he could win the most delegates. Bloomberg qualified for this DNC debate because of his national polling numbers: The polls have him in second place with 19%, behind Sanders with 31% of the vote.
Know This: Each candidate is vying for votes from middle-of-the-road voters in the Democratic Party, and some people have accused candidates of cannibalizing each other's support.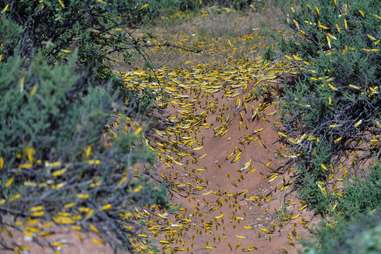 2. Locusts are infesting East Africa and devouring people's food

Locusts are ravaging East Africa and eating crops, threatening regions that already suffer from widespread food insecurity. The infestation of desert locusts, the world's most threatening migratory pests, began three months ago and has since spread to Kenya, Somalia, Eritrea, Djibouti, Tanzania, Uganda, and now South Sudan. (This United Nations interactive shows just how bad it is, by the numbers). According to the UN's Food and Agriculture Organization, an average swarm of 40 million locusts can travel more than 90 miles and devour enough food to feed 34 million people in a single day. The infestation threatens a region that has suffered from years of droughts and floods, exacerbating food shortages and widespread hunger. In South Sudan, where the locusts have most recently migrated, an estimated 60% of the population suffers from food insecurity following the country's years-long civil war.
Know This: The UN says that the climate crisis — which has led to extreme weather conditions like cyclones and heavy rains — has increased reproduction of locust populations. The organization warns that the spread could continue through June under these conditions, and it is calling on the international community to help raise $76 million needed to spray the affected areas with pesticides.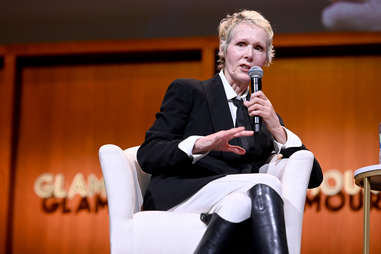 3. Writer E. Jean Carroll says she was fired after accusing Trump of rape

E. Jean Carroll, the veteran columnist and author who has accused Donald Trump of raping her in the '90s, said Tuesday that Elle magazine fired her after Trump's public attacks on her reputation. Carroll blamed her firing on Trump, whom she publicly accused of rape in a book excerpt published in a June 2019 issue of New York Magazine. A new filing on Tuesday in Carroll's ongoing defamation suit includes allegations that Trump "smearing" her reputation led to her receiving significantly fewer letters from readers — and ultimately being fired. Carroll first sued Trump for defamation in November, and his lawyer has not publicly responded to Carroll's latest filing. A spokesperson for Hearst did not respond to NowThis' request for comment. Read more about the story here.
Know This: Carroll's initial accusation against Trump appears in her 2019 book "What Do We Need Men For?", in which she described being raped by Trump in a Bergdorf Goodman fitting room in the mid-1990s. She shared the anecdote with two other people, both of whom have since corroborated Carroll's account in interviews with outlets that include The New York Times. A White House spokesperson has told New York Magazine that the account is "completely false," and Trump has said that he had "no idea" who Carroll is.
4. SpaceX wants to send regular ol' people into space

SpaceX has partnered with private space tourism company Space Adventures to introduce commercial astronaut flights. In an announcement Tuesday, the companies revealed their plan to launch up to four private citizens into space in SpaceX's Crew Dragon capsule — calling the mission "the first orbital space tourism experience provided entirely with American technology." The citizen flyers will board SpaceX's fully autonomous Crew Dragon spacecraft — which will be launched by the Falcon 9 rocket — like real NASA astronauts, who will board the same spacecraft on trips to the International Space Station, according to the announcement. Space Adventures has already organized eight commercial flights to the International Space Station for clients like engineer/entrepreneur Dennis Tito and Cirque du Soleil founder Guy Laliberté.
Know This: The private space trips are expected to begin in 2021 or 2022. And though a price hasn't been revealed for the intrepid space adventures, reports indicate that Tito paid $20 million for the Space Adventures trip he took in 2001, and Laliberté paid $35 million for his 2009 trip.
5. Spoiler alert: Burger King's new ad features a moldy burger

Burger King has a new ad campaign featuring a moldy Whopper. Spoiler alert (get it?!): it's part of an effort to promote BK's new plan to eliminate artificial preservatives from its ingredients. The ad shows a 45-second timelapse that demonstrates what it looks like when you leave "real food out" for 34 days. (We don't advise trying this at home 🍔) Recently, the company has launched initiatives to reduce its sodium levels, as well as to improve its vegetarian options with the addition of the Impossible Whopper to its menu.
Know This: The fast food giant said it plans to roll out a preservative-free Whopper by the end of 2020.
On that note, we know what we're having for dinner (not). Goodnight and see you tomorrow!
-Sari Soffer, Supervising Producer, and Natalie Daher, Multiplatform Editor & Writer, with contribution from Johanna Silver