KnowThis: Jussie Smollett Indicted, Pit Bull Ban Lifted, & More
"The fact is that Democrats deserved better than what happened on caucus night. As chair of this party, I am deeply sorry for what happened and bear the responsibility."—Iowa Democratic Party Chair Troy Price resigning today after last week's caucus debacle
1. The Dept. of Justice is now fully in Trump's pocket
One of the big questions following President Donald Trump's acquittal in the Senate last week (yes, somehow it was only last week) is what an emboldened president would do next: ask for more foreign interference in the 2020 election? Open more investigations into his political rivals? Less than seven days later, we got our answer — and it "confirms things are even worse than we feared," as
Washington Post columnist Randall Eliason
put it. Attorney General Bill Barr has taken control of legal matters that are "of personal interest" to Trump, according to multiple sources. Some of this we already knew; Barr has publicly sided with Trump many times before, including in his confirmation hearings. But yesterday's legal drama brought things to a whole new level, and it centered on Roger Stone, the longtime political adviser and associate of Trump's
who was convicted of lying to Congress
and witness tampering in the Mueller investigation. On Monday, prosecutors recommended that Stone be sentenced to up to nine years in prison. On Tuesday, Barr intervened to reverse that sentencing recommendation and make it lighter. Three prosecutors who were working on the case resigned, and "one quit the Justice Department altogether,"
according to NBC News,
in a sign of the growing unease in the department about Barr's extreme loyalty to Trump.
This isn't the first time Barr and his aides have intervened in legal cases on Trump's behalf, either (more on that in the NBC link). But it is notable that Trump openly congratulated the attorney general "for taking charge of a case that was totally out of control and perhaps should not have even been brought" — in defiance of all constitutional law. Et tu, Susan Collins?
Know This: Sen. Elizabeth Warren, who has made fighting corruption the central platform of her presidential campaign, was the only candidate to call out Barr and the Justice Department last night. In her speech in New Hampshire, she said, "On a day when career prosecutors showed more backbone than almost every Republican senator, Americans are gravely concerned about the corruption of a Trump Justice Department…giving sweetheart deals to commit crimes on behalf of Trump. And yes, Roger Stone, I'm looking at you."
Getty Images
2. New Hampshire recap: Sanders wins, three candidates drop out
The New Hampshire primary proved more fruitful than Iowa because we actually got results within 24 hours — Sen. Bernie Sanders of neighboring Vermont won the Granite State primary, just as he did in 2016. This time, he faced more challengers, and that certainly split the vote: His margin of victory was small enough that he and second place Pete Buttigieg picked up the same number of delegates. As our senior politics producer Allan Piper put it regarding the
1.3% difference in votes
: "Delegates are people and can't be divided." In the overall race for DNC delegates, Buttigieg is still ahead by one. Sen. Elizabeth Warren didn't win any new delegates from New Hampshire, but is still holding onto third place overall. Sen. Amy Klobuchar picked up enough delegates to move into fourth place, ahead of Joe Biden. She's got 7 delegates to his 6. Nobody else has any delegates.
Businessman Andrew Yang,
Sen. Michael Bennet, and former Mass. Gov. Deval Patrick have all dropped out of the primary race since last night, winnowing the field (and leaving only one candidate of color, Rep. Tulsi Gabbard).
It takes 1,990 pledged delegates to clinch the Democratic nomination. The next contest will be the Nevada caucuses on Feb. 22, with 36 delegates up for grabs.
Know This: Because Iowa and New Hampshire go first, there has been outsized media attention on their results, which can dictate candidates' momentum for the rest of the race — but that's problematic for various reasons. We're talking about a grand total of about 465,000 voters, which is fewer than the populations of Fort Worth, Texas, Kansas City, Missouri, and Tucson, Arizona, among others. Read our breakdown of why Iowa and NH shouldn't go first here.
Getty Images
3. Kobe and Gigi Bryant laid to rest in private service
Kobe Bryant and his daughter Gianna,
known affectionately as Gigi, were laid to rest during a private funeral ceremony held last Friday in Pacific View Memorial Park in California. Kobe and Gigi were
killed in a helicopter crash in Calabasas, CA,
late last month, along with the seven other passengers on board. The group was on their way to a basketball game at Bryant's Mamba Sports Academy. According to the death certificate, Bryant's cause of death was "blunt trauma," as reported by Fox 11 in Los Angeles.
Know This: A public memorial service is scheduled for February 24 at the Staples Center. The date of the public service has significance, with #2 being Gigi's jersey number and #24 being one of Kobe's jersey numbers on the Lakers. The memorial will also honor the other passengers on the helicopter who tragically lost their lives. Here are their names and stories.
Getty Images
4. Actor Jussie Smollett indicted on new charges in alleged hate crime controversy
Actor Jussie Smollett was indicted yesterday by a Chicago grand jury on six new charges of disorderly conduct for allegedly making false reports to Chicago police. The former "Empire" actor has been embroiled in controversy for more than a year after Chicago police said he filed false police reports claiming to be the victim of a hate crime in January 2019. Smollett had claimed he was the victim of a racist and homophobic attack, and that he had a rope put around his neck and bleach poured on him. Investigators later said he staged his own attack (Smollett denied this).
The new indictment was announced by special prosecutor Dan Webb, who has led a 6-month investigation into the incident and how it was handled. He was appointed after Cook County prosecutors dropped similar charges in March 2019. Webb took over the case after a judge ruled the Cook County state's attorney, Kim Foxx, who is up for re-election, mishandled it. Read more about the latest charges, and background on the initial incident, here.
Know This: Smollett has denied all allegations, according to CBS Chicago, and accused Chicago police of malicious prosecution. Separately, the city is suing Smollett for the $130,000 cost of the investigation. Smollett is scheduled to appear in court on February 24.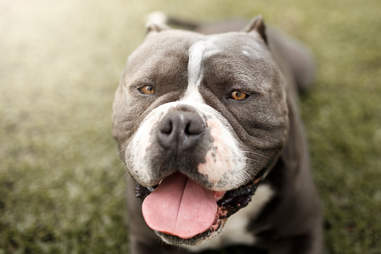 Getty Images
5. Denver votes to end its 30-year-long pit bull ban
The Denver City Council voted this week to reverse a 30-year ban on pit bulls in the city
— with some restrictions and pending confirmation from the mayor. The ban, first enacted in 1989, was lifted in a 7-4 vote and is to be replaced with new guidelines to help guide pit bull owners to responsible behavior, like neutering, vaccination, and leash laws. Why were they banned in the first place?
The Washington Post describes them
as "dogs that have long divided local governments, housing authorities and military bases over what experts say is a misconception that they are predisposed to be violent." The American Veterinary Medical Association (AVMA) and other groups agree that it's a misconception and oppose such bans. "While breed-specific bans may appear to be a quick fix, they are an overly simplistic approach to a complex social problem," said Dr. Kendall Houlihan, assistant director of the AVMA's Animal Welfare Division.
According to The Denver Post,
Houlihan also pointed out, "There's no specific data to show that one breed is more dangerous than another." Dog lovers in Denver celebrated the news at the City Council meeting, including the dog owner who inspired the repeal, who said she was "over the moon… shocked and grateful."
Know This: According to the AVMA, "more than 900 U.S. cities had some form of breed-specific ordinance." But as was the case in Denver, mixed-breed dogs and their owners can get caught up in these laws, which are hard to enforce based on sight. Denver plans to re-evaluate the policy after two years to see how effective the probationary guidelines are.
Speaking of dogs: The 144th (!) Westminster Kennel Club Dog Show was yesterday, and you have to take a look at the Best in Show winner, Siba, a 3-year-old standard poodle with a truly glorious mane.
That's all for today. Mid-week, we made it! We'll see you tomorrow.
-Versha Sharma, with contributions from Ashleigh Carter, Natalie Daher, and Johanna Silver