KnowThis: Royal Drama, Sonos Sues Google, & More
"U.S. Army Recruiting Command has received multiple calls and emails about these fake text messages…"— U.S. Army addresses the hoax text messages circulating, falsely stating that individuals have been drafted.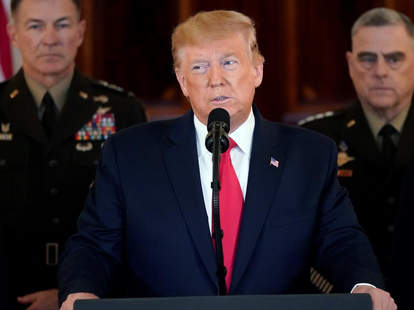 1. Trump says Iran will get "punishing" sanctions after launching missiles at Iraqi bases housing U.S. forces

President Donald Trump addressed the nation this morning in a 10-minute speech after Iran on Tuesday night fired more than two dozen missiles at two Iraqi bases housing U.S. troops and coalition forces. The strikes were the first sign of retaliation for the killing of Maj. Gen. Qasem Soleimani by a U.S. drone strike last week. You can read Trump's full remarks here."We suffered no casualties, all of our soldiers are safe, and only minimal damage was sustained at our military bases," Trump said. The rest of his message was mixed: Trump announced new "punishing" sanctions on Iran, while also mentioning that the two countries should work together on shared priorities (like fighting ISIS). Additionally, Trump said that NATO allies should play a bigger role in the Middle East — though he routinely has criticized the alliance. He also urged other countries (the UK, Germany, France, Russia, and China) to leave the Iran nuclear deal. In his speech, Trumpmischaracterized the deal, saying the U.S. gave Iran billions that funded Iran's missiles last night. In reality, the U.S. freed up Iran's own money that had been frozen for decades. Trump removed the U.S. from the Iran nuclear deal in 2018. 

KnowThis: After the missile strikes, Iranian Foreign Minister Mohammad Javad Zarif tweeted that Iran "took & concluded proportionate measures in self-defense." Some intelligence officials have speculated that Iran's targets were deliberately missed so Iran could symbolically appease Iranians without further escalating the growing tensions. But even after Zarif's message, Iran's Supreme Leader Ayatollah Ali Khamenei said,"They were slapped last night, but such military actions are not enough." He wants U.S. forces out of the region entirely.
Associated Press
2. Ukraine-bound plane from Iran crashes, killing 176 on board

A plane transporting176 people (passengers and crew) from Iran to Ukraine crashed Wednesday morning,killing everyone on board. The victims were from various countries, including Iran, Canada, Ukraine, Sweden, Afghanistan, Germany and the UK. The plane, operated by Ukraine International Airlines, was a Boeing 737-800, not to be confused with the Boeing 737 Max that's been indefinitely grounded as a result of two deadly crashes. Boeing tweeted condolences, but has given no additional information on what happened. Iranian news sourceshave indicated a possible mechanical error with the aircraft, but Ukrainian officials haven't officially commented on a cause.
Know This: The crash happened several hours after Iran fired missiles at U.S. military bases in Iraq (see our story above), but there have been no connections made between the two events.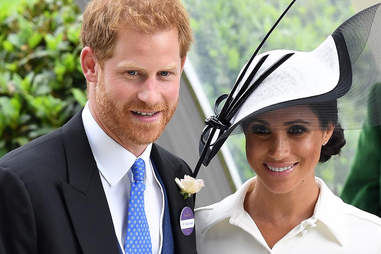 Getty Images
3. These royals are about to become mere mortals

The Duke and Duchess of Sussex have announced they are stepping down as senior members of the Royal Family to become financially independent (said no one ever). Prince Harry and Meghan Markle made the announcement on Instagram, saying they'd continue "to fully support Her Majesty The Queen" and raise their son within royal tradition, but they plan to split their time between the UK and North America. The news had everyone holding their breath for a response from the Queen…  which came hours later with a plot twist. The BBC reported that no other royals were consulted before Harry and Meghan released the statement, and many were "hurt" or "disappointed." Buckingham Palace released a statement saying the discussion was in an "early stage." 
Know This: In a recent documentary, the duchess said that adjusting to royal life had been difficult for her. But many are questioning how the duke and duchess plan to pave their own financial path, since, y'know, they're still royalty, and that's worth something no matter what.
 
Getty Images
4. Sonos sues Google for allegedly stealing its speaker technology 
Sonos is suing Google, accusing the tech giant of copying its technology that allows smart speakers to play music in different rooms.According to a pair of federal complaints (one with the International Trade Commission and one in Los Angeles federal district court), the two companies started working together in 2013 to easily integrate Google's music service to Sonos speakers. In doing so, Sonos spilled the secret sauce about how its system worked. Google wasn't a competitor at the time… until it launched Google's Chromecast Audio in 2015 and Google Home a year later, quickly outselling Sonos in the speaker department. When Sonos leaders got their hands on a Google Home, they believed Google stole from the Sonos playbook. Sonos' CEO said the company engaged in "repeated and extensive efforts" to solve the problem with Google directly, but Google "has not shown any willingness to work with us." So yesterday, Sonos accused Google of patent infringement, requesting compensation for financial damages and a ban on the sale of Google's speakers, smartphones, and laptops in the U.S.
The legal action plays into the growing feeling from consumers and politicians alike that tech giants like Google, Amazon, and Facebook are monopolizing the space and preventing smaller companies from growing. "We're left with no choice but to litigate in the interest of protecting our inventions, our customers, and the spirit of innovation that's defined Sonos from the beginning," Sonos CEO Patrick Spence said.
Know This:According to The New York Times, Sonos said Amazon also infringed on many of its patents, but the company doesn't currently have enough money to take on two tech giants at once. Even though Sonos only sued Google over 5 patents, the company estimates Google and Amazon likely violated at least 100 of Sonos' more than 750 audio technology-related patents.
 
Girl Scouts of America
5. When life gives you lemons...

It's everyone's favorite season. No, not winter... Girl Scout cookie season! This year, Girl Scouts of the USA introduced a new crispy, lemony cookie with an empowering message. The lemon wafers have a layer of sweet glaze on one side, but what really makes these cookies a treat are the affirmations and positive messages written on them. The messages say: "I AM A LEADER," "I AM GUTSY," (a nod to Hillary Clinton's new "The Book of Gutsy Women," perhaps?) "I AM A GO-GETTER," and more. The new Lemon-Ups are not available everywhere — find out if you can grab some by contacting your local Girl Scout council or visiting the Girl Scouts' website.
Know This: If you're a true Girl Scout cookie aficionado, you know that lemon cookies aren't new to the Girl Scout repertoire. Lemonades are available in select Girl Scout council markets (check the site for those, too!) … but with those, you'll have to find your positive messaging elsewhere.
Speaking of winter, who got some pretty flurries this week? We did! We'll see you tomorrow.
-Sari Soffer, Supervising Producer, and Zinhle Essamuah, KnowThis Host and Correspondent