KnowThis: The 5 Biggest Bombs From The Impeachment Hearing
Two top U.S. officials revealed under oath their knowledge of President Trump's attempts to enlist a foreign power to help him win the 2020 election.
Top U.S. Diplomats: Yes, Trump Tried To Extort Ukraine
The question at the heart of the impeachment inquiry is whether President Donald Trump abused the power of his office to pressure a foreign country for his own personal, political gain. That, by itself, is an impeachable offense. It's not the only one that's come up — see: the Mueller report on obstruction of justice — but it's the one that is central to understanding this scandal. Today, the first witnesses in the public impeachment hearings testified under oath that Trump cared more about "the investigations" into the Bidens than he did about other issues in Ukraine, including U.S. national security. Who were these witnesses?
Bill Taylor, acting U.S. ambassador to Ukraine, who previously served as ambassador to Ukraine under the Bush and Obama administrations. Taylor has extensive experience and knowledge of this region and also served in the U.S. military in Vietnam. (Sidenote: He also has the voice of Walter Cronkite.)
George Kent, the deputy assistant secretary for European and Eurasian Affairs, who has served in the State Department since 1992. He was previously a foreign service officer in Ukraine, as well as other countries, and has led anti-corruption bureaus in Europe. 
Both men have served under Republican and Democratic presidents, and consider themselves nonpartisan public servants.
Because of their testimony in the impeachment inquiry, Republicans and the president have tried to discredit them as "Never Trumpers" who only want to take him down. A member of the House Intel Committee asked them today if they are Never Trumpers, to which they said: "No, sir."
KnowThis: When asked about the hearings this afternoon, President Trump called it a "witch hunt," "a joke," and "a sham," and said he hasn't "watched one minute" of it. His Twitter feed seems to indicate otherwise.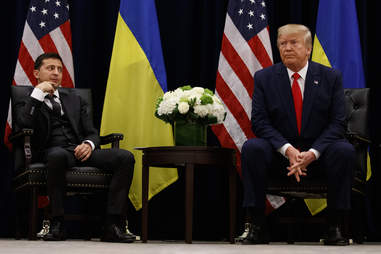 Associated Press
And The Ambassador Dropped A *New* Bombshell
We got some more brand-new information in addition to confirmation of details in today's testimony, too. Amb. Taylor gave closed-door testimony to House committees last month — but he found out something from a member of his staff just a few days ago, and he included it in his opening statement. Here's what he said:
 
"In the presence of my staff at a restaurant, Ambassador [to the European Union] Sondland called President Trump and told him of his meetings in Kyiv. The member of my staff could hear President Trump on the phone, asking Amb. Sondland about 'the investigations.'... Following the call with Pres. Trump, the member of my staff asked Amb. Sondland what Pres. Trump thought about Ukraine. Amb. Sondland responded that Pres. Trump cares more about the investigations of Biden, which Giuliani was pressing for. At the time I gave my deposition on October 22, I was not aware of this information. I am including it here for completeness."
What this means:
President Trump was conducting foreign policy calls by phone where people could overhear them. As the former U.S. ambassador to Russia, Michael McFaul, put it: "Normally EU Ambos don't call presidents. They never do so to discuss Ukraine policy. Doing so on a cellphone from Kyiv means whole world was listening in." (We can only imagine what other kinds of Trump calls the "whole world" has listened in on.)
Trump was directly asking for updates on the pressure campaign on the Ukrainian government, according to the staffer.
KnowThis: Today's hearings were focused on Trump, but Amb. Taylor made a point to repeatedly bring up Vice President Mike Pence's involvement in this scandal, too. Pence met with Zelensky in the middle of the pressure campaign, and spoke to him multiple times. Even Trump has thrown him under the bus, previously telling reporters, "I think you should ask for Vice President Pence's conversation, because he had a couple conversations also."
House Democrats/CSPAN
That Call With Zelensky Was Far From "Perfect"
President Trump repeated his talking point this afternoon that his now-infamous call with Ukrainian President Volodomyr Zelensky was a "perfect" one, another point that came up in today's hearings. Top diplomats George Kent and Bill Taylor disagree with that assessment, as you can see here. And they went even further, testifying that Trump damaged U.S. national security interests when he withheld military aid unless Zelensky did him a personal favor. Some choice quotes:
"Because of the importance of security assistance, because that was so important to Ukraine, as well as our own national interests, to withhold that assistance for no good reason other than help with a political campaign, made no sense. It was counterproductive to all of what we had been trying to do. It was illogical, it could not be explained, it was crazy." — Amb. Taylor
When asked if pressuring Ukraine to conduct political investigations is in the national interest of the U.S., Kent replied, "In my opinion, it is not." He pointed out that the U.S. diplomatic goal is to help central and eastern European countries "overcome the legacy of communism" — and that persecuting your political rivals using the levers of government is something an autocratic government would do, not a democratic one.
"Our credibility is based on a respect for the United States. Anything that damages our credibility impairs our ability to do our jobs." — Amb. Taylor
KnowThis: Taylor also testified that he has never, in his decades of public and military service, seen a president ask a foreign government to intervene in a U.S. election (something several historians have said, as well).
Reuters
Kent And Taylor Are Genuinely Concerned About Helping Ukraine
Why did Kent and Taylor come forward with all this information when so many other witnesses have simply refused to show up for congressional questioning? It's clear from today's testimony that these two diplomats are sincerely concerned about Ukraine, in terms of promoting democracy there and fighting Russian aggression. A reminder: More than 13,000 Ukrainians have died fighting the war against Russia since the latter country first invaded in 2014.
 
Kent and Taylor have front-row insight into how much Ukraine depends on the U.S. — both in terms of military aid and diplomatic support. And Taylor testified that the new president of Ukraine — just elected in April of this year and sworn in in May — was certainly under pressure to do what he could to get the crucial military aid his country needed. Zelensky has also been seeking a White House meeting with President Trump, which Kent said would "boost his leverage to negotiate with Putin about the Russian invasion" of Ukrainian territory.
KnowThis: Zelensky, the aspiring democratic reformer who wants to fight corruption, still hasn't gotten his White House invite — but the authoritarian president of Turkey did. Trump was actually hosting Turkish President Recep Tayyip Erdoğan *today* as the hearings were going on. He told Erdoğan he's doing a "great job" in Turkey (he's jailing more journalists than any other country in the world for 3 years running) and gave away the game on Syria, saying, "We left troops behind only for the oil."
Getty Images
Republicans Are Desperate To Derail The Hearings
Within the first two minutes of the hearing today, Republican members of the Intel Committee were raising arcane points of parliamentary procedure to try to interrupt Intel Chairman and Democratic Rep. Adam Schiff. It's part of their strategy for fighting impeachment: derail the hearings, make them confusing and hard to follow, interrupt Democratic questioning, and when it's their turn to ask questions, float conspiracy theories that are on Fox News and the president's Twitter feed, but not based in fact. Amb. Taylor was at times visibly baffled by the GOP line of questioning.
 
GOP reps. also used the opportunity to threaten the whistleblower who came forward with concerns about Trump's Ukraine policy in the first place, moving to subpoena them and thus reveal their identity (so far protected). The motion failed.
KnowThis: The next public hearing is this Friday, when former U.S. ambassador to Ukraine Marie Yovanovitch is set to testify. She's the one who was pushed out of her job because she didn't want to go along with Trump's attempted extortion, so that testimony is sure to be can't-miss TV.
 
That's it for today's impeachment recap, but we have one more important story we want to bring to your attention: Rodney Reed, a man on death row in Texas, is scheduled to be executed in one week on November 20. But Reed maintains he's innocent, and lawyers from the Innocence Project say a witness gave testimony to support his claim of innocence. Watch our new interview with Reed here, and learn more about the urgent campaign to get Texas to give him clemency.
 
Thanks for reading. We'll see you tomorrow.
 
—Versha Sharma, Senior Correspondent, NowThis
Video Of The Day: