KnowThis: Ukrainian Plane Crash, Brexit, Justin Bieber & More
"They not terrorist. Trump is."—Cardi B with succinct poetry about the Iranian people
1. Ukrainian plane may have been hit with Iranian missile before crash, officials say

There have been some major developments in the last few hours in the story of a Ukraine International Airlines jet that crashed in Iran on Wednesday, killing 176 people. Canadian Prime Minister Justin Trudeau and British Prime Minister Boris Johnson both made statements this afternoon saying they had credible intelligence that the crash was caused by a surface-to-air missile launched by Iran, saying it "may well have been unintentional." Both are calling for a full investigation of the crash. Earlier, Iran had said it wouldn't hand over their black boxes to the U.S. or Boeing for inspection, but conceded today that it would be willing to hand them over to experts in France or Canada if Iranian officials determine they're not able to read the damaged boxes themselves. (They've already said they may need help.) 63 people who died on board the plane were Canadian, if you're wondering why Canadian intelligence and PM Trudeau are playing a key role. Read more about it here.
U.S. officials are working with UK and Canadian authorities to coordinate intel. Earlier today, President Donald Trump said he had "his own suspicions" regarding the crash and that the plane "was flying in a rough neighborhood." 🤔
Know This: In addition to the 63 Canadians among the passengers, there were 82 Iranians, 11 Ukrainians, 10 Swedes, 4 Britons, 4 Afghans, and 3 Germans. That means if Iran did indeed unintentionally fire a missile that brought down the plane, it accidentally killed 82 of its own citizens. It's an all-around tragedy.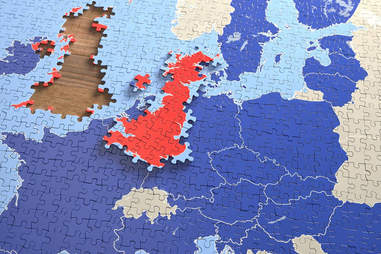 Getty Images
2. Brexit may *actually* happen on January 31 

Just one month after the Conservative Party's decisive win in the December UK general elections, Prime Minister Boris Johnson has (somehow) managed to do what Theresa May never could — get the House of Commons to approve a Brexit plan. The Commons approved the Withdrawal Agreement Bill in a 330-231 vote, sending it to the House of Lords for its approval, which is expected. All 330 votes came from the Conservative Party.
Pro-Brexit folks are happy about this development, as the UK is due to leave the EU on January 31. That date has been delayed time and time again since Brexit first came up in 2016, but today's news means it's closer than ever to actually happening. Opponents of Brexit are still incredibly vocal about it, warning about the potential adverse effects. If this all goes down at the end of the month, the UK will have an 11-month transition period out of the EU, which Boris Johnson and Co. think is enough time for Britain and the EU to reach a trade deal.
And a quick update on other British drama that we covered in yesterday's newsletter: the Queen reportedly asked Prince Harry not to issue the statement saying he and Duchess Meghan are stepping back from the Royal Family, but the renegades did it anyway.
Know This: Brexit may be moving forward, but Scotland remains steadfast in its opposition. The leader of the Scottish National Party in the House of Commons, Ian Blackford, said Scotland is being "dragged" out of the EU against its will and called it "a constitutional crisis" because a clear majority of Scotland voted to remain. Stay tuned.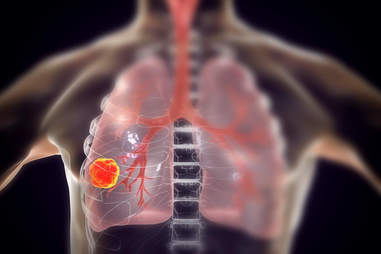 Getty Images
3. Cancer death rate in the U.S. hits a historic low 

Finally, some legitimately good news: Cancer death rates had "the biggest single-year drop ever" between 2016 and 2017, according to a new analysis by the American Cancer Society. The rate dropped 2.2%, compared to the 1.5% decline that's been average over much of the last decade.This is great news and "seems to be driven by accelerating declines in lung cancer mortality," according to Rebecca Siegel, the report's author and a cancer epidemiologist.
Lung cancer is the leading cause of cancer death in the U.S. — the report notes that it kills more people than breast, colorectal, and prostate cancers combined. Smoking rates have steadily decreased, while treatments for lung cancer have gotten more advanced, two factors contributing to the drop. It's important to note, though, that the cancer mortality rate is measured as deaths per 100,000 people, which means it's not the same as the total number of deaths from cancer. While the rate has fallen, the "absolute number" of cancer deaths has not, as a significant number of Americans are aging, increasing their risk of developing cancer. "We have more than 600,000 deaths from cancer in this country every year, and that number continues to grow," Siegel says. Still, as one doctor put it, the drop in the mortality rate is "unambiguously good news."
Know This: Screenings for lung cancer are free under the Affordable Care Act — but few Americans are taking advantage of that. A study in the American Journal of Preventive Medicine found that only 4.4% of people eligible for the screening actually got tested in 2015. Spread the news (especially to your friends who smoke or used to smoke!). Early detection is key to fighting cancer.
Associated Press
4. Australia takes legal action against nearly 200 people for fire-related offenses

24 people have been charged with intentionally starting fires in Australia as the country continues to be threatened by its fourth month of deadly bushfires. The New South Wales Police Force says it has taken legal action — ranging from cautions to criminal charges — against 183 people for 205 bushfire-related offenses. Those include purposefully starting fires, failing to comply with a fire ban, or knowingly discarding a lighted cigarette or match on land. The offenses are particularly disturbing given that bushfires in Australia have killed more than two dozen people and 1 billion animals this season. Those charged with intentionally starting fires could face up to 25 years in prison for the most serious offenses.
Know This: Volunteer firefighters from around the world are continuing to travel to Australia to help. U.S. firefighters were welcomed by a round of applause at the Sydney Airport this week as they arrived. Watch the video here.
Getty Images
5. Justin Bieber says he has Lyme disease

In response to speculation about his health, Justin Bieber has revealed that he has Lyme disease. "It's been a rough couple of years but getting the right treatment that will help treat this so far incurable disease and I will be back and better than ever." Bieber wrote on Instagram. The 25-year-old singer says fans began to speculate online about whether he had become a drug addict, so he briefly explained his recent diagnosis, as well as his battle with chronic mono. Bieber says people will have the chance to learn more about his health battle in an upcoming docuseries, "Justin Bieber: Seasons." Hailey Baldwin, model and Bieber's wife, came to his defense, tweeting, "Making fun of and belittling a disease you don't understand is never the way, all it takes is educating yourself." Other celebs chimed in, like Avril Lavigne, who shared her experiences with the disease. Approximately 30,000 cases of Lyme disease are reported annually to the Centers for Disease Control and Prevention.
Know This: How do you get Lyme disease? The illness is transmitted through the bite of infected ticks. Since they're so small, they can attach themselves to hard-to-see areas, allowing them to pass on their Lyme disease bacterium. Individuals treated with antibiotics early on can usually recover rapidly and completely, but without treatment, complications can occur.

Speaking of successful cancer treatments: The notorious RBG (Supreme Court Justice Ruth Bader Ginsburg, in case you're not caught up) announced this week that she's cancer-free. The 86-year-old justice has gone through four cancer treatments, the latest one for pancreatic cancer. We're glad to see her back in good health.
That's it for today — thank you for reading!
—Versha, Zinhle and Sari