KnowThis: Vaping Study, Florida's Poll Tax & More
A recap of the debate, a vaping study gets retracted, and more of the day's top stories.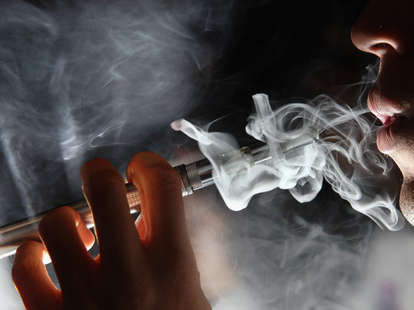 1. Journal retracts study that says vaping can increase heart attack risk

In June 2019 — just a few months into the outbreak of vaping-related illnesses and deaths (and subsequent panic) — the Journal of the American Heart Association (JAHA) published a study that concluded that e-cigarette use puts people at increased risk of having a heart attack. Now, the editors are retracting the peer-reviewed publication because they are "concerned that the study conclusion is unreliable" (read the retraction here). According to VICE, a tobacco control expert at the University of Louisville, Brad Rodu, pointed out that many of the smokers in the study went from using cigarettes to vapes, and some of the participants had heart attacks before using e-cigarettes. Last month, 16 professors wrote a letter to JAHA's editors requesting they take Rodu's concerns seriously and investigate the study's findings to not "mislead practitioners and policymakers."
Know This: One of the study's authors, Stanton Glantz, is pushing back, saying the journal "caves to pressure from e-cig interests." The study was referenced by various news outlets, often pointing out how we don't know if vaping is safer than cigarettes. This seems to have only confused the debate.
2. Still feelin' the heat from last night's Democratic debate?

If you missed the Democratic debate last night, don't worry, we have a full recap of the "roller-coaster" Las Vegas showdown, feat. former VP Joe Biden, former Mayor Michael Bloomberg, former Mayor Pete Buttigieg, Sen. Elizabeth Warren, Sen. Amy Klobuchar, and Sen. Bernie Sanders. It was the most-watched Dem primary debate of all time (!!) with almost 20 million viewers, according to CNN. To sum it up: That stage was on fire 🔥It was Bloomberg's first debate (since the DNC changed its qualification rules to include him), so his opponents and the moderators were on the attack.
When it came to Bloomberg's stop-and-frisk policy and racist remarks defending it, the former mayor said he was embarrassed about how the policy "got out of control." He added that he "sat down with a bunch of African American clergy and business people to talk about this, to try to learn." The candidates responded by bringing more heat, which you can watch here. On his treatment of women, Warren brought up lawsuits against Bloomberg's media company for sexual harassment and gender discrimination, some of which were settled with NDAs. She called him out on the spot: "So, Mr. Mayor, are you willing to release all of those women from those non-disclosure agreements, so we can hear their side of the story?" Bloomberg did not. (He had other things to say during the heated back and forth.) *If there's one standout moment from the debate, we think this was it.*
Moderates fighting for the party's centrist votes spent a good chunk arguing, too. Buttigieg and Klobuchar got into it over Klobuchar forgetting the Mexican president's name in a Telemundo interview. She called it a moment of forgetfulness, while Buttigieg said, "You're literally in part of the committee that's overseeing these things and were not able to speak to literally the first thing about the politics of the country to our south." Warren stepped in to stand up for the only other woman on the stage: "This is not right. I understand that she forgot a name. It happens … Look, you want to ask about whether or not you understand trade policy with Mexico? Have at it."
Know This: The Nevada caucuses are on Feb. 22 and the South Carolina primary is on Feb. 29. A reminder: Bloomberg is not competing in either of those; instead, he's saving his efforts for Super Tuesday in March, where he can win the most delegates. The next debate is Tuesday, Feb. 25.
3. Gunman with far-right views kills at least 9 in Germany

A gunman opened fire on two hookah bars locations in the town of Hanau, 15 miles east of Frankfurt, Germany, on Wednesday night, killing nine people and injuring several others. The gunman was later found dead in his apartment, along with his mother, both from gunshot wounds. The suspected shooter had reportedly posted far-right and anti-immigration materials online and targeted areas often frequented by immigrants who've lived in Germany for generations.
"Racism is a poison. Hate is a poison," German Chancellor Angela Merkel said in response to the attacks. The shootings are the deadliest in Germany since a 2016 mass shooting in Munich.
Know This: The attack follows a string of racist incidents that have recently plagued the country, including the killing of a pro-refugee politician in June and an attempted attack on a German synagogue in October.
4. Unanimous court ruling blocks Florida's "poll tax" for people with felony convictions

The U.S. Court of Appeals for the 11th Circuit in Atlanta on Wednesday upheld a lower court decision that found Florida cannot bar people with felony convictions from voting if they can't pay legal fines. 17 people with felony convictions sued Republican Gov. Ron DeSantis and state officials over Florida's 2019 law imposing that requirement. But didn't Florida already restore the right to vote for individuals with previous felony convictions? Yes, that's correct. In November 2018, Amendment 4 passed in Florida, restoring the right to vote to those with felony convictions who had completed their sentence. This restored the right to vote for more than a million people. While a major win for voting rights activists, the Republican-led state legislature passed a measure saying people with felonies can vote — but first, they have to pay all their court fines and legal fees. Critics said the law amounted to a Jim Crow era "poll tax" that never allowed returning citizens to fully regain their rights. Wednesday's ruling striking down this law is progress for voting rights activists.
"This punishment is linked not to their culpability, but rather to the exogenous fact of their wealth," the judges wrote. You can see the full ruling here.
Know This: Only the 17 plaintiffs in the case will be able to vote in Florida's March 17 primary. NowThis spoke with Desmond Meade, president of the Florida Rights Restoration Coalition, who said, "Every day [Florida has] a returning citizen that's getting their voter registration card in the mail. And every day there's the opportunity for us to celebrate the slow expansion of democracy in the state of Florida." FRRC has a fines and fees fund where the public can donate and contribute to paying off the fines and fees returning citizens may have.
5. USC joins the list of colleges offering free tuition

The University of Southern California — one of the most expensive colleges in the country — announced on Thursday it will waive tuition for students whose families make under $80,000 a year. In 2019, USC ranked as the ninth most expensive college in the U.S., with tuition alone costing $57,256 per year, not including housing, food, and books/supplies. Now, USC is following in the footsteps of other colleges like the University of California, Harvard, and Stanford — all of which offer tuition-free admission for families who make under a certain amount of money annually. The school is using $30 million in financial aid for the new initiative, and President Carol L. Folt says she hopes to add another $1 billion over the next several years. USC is also no longer requiring students to disclose homeownership on financial aid applications, as the price of homes in California has increased significantly while salaries mostly stayed the same. USC's new tuition policy will begin in fall 2020 and spring 2021 for first-year students. Transfer students will not be eligible.
Know This: USC recently made headlines after members of its staff were indicted in the college admissions bribery scandal, where children of wealthy and influential parents (some celebrities included) were admitted to universities with false test scores and athletic achievements.
Thanks for reading. We're a day away from Friday... enjoy the simple victories.
-Sari Soffer, Supervising Producer, and Zinhle Essamuah, KnowThis Host and Correspondent