KnowThis: Is White Claw Killing the Wine Industry? Trump's Tweet & More
"I JUST GOT IMPEACHED FOR MAKING A PERFECT PHONE CALL!" – President Trump on Twitter, obviously.
Getty Images
1. Trump broke the law, gov't watchdog says

Trump broke the law, government watchdog says
The independent, nonpartisan U.S. Government Accountability Office (GAO) issued a bombshell decision Thursday, saying the Trump administration violated the law by withholding nearly $400 million in Congress-approved financial assistance from Ukraine for "his own policy priorities." That priority was to get dirt on the Bidens, as Trump said himself in a July 2019 call with Ukrainian President Volodymyr Zelensky. The GAO said the administration violated a law that prohibits the president from using his power to withhold money that Congress allocated for a specific purpose. "Faithful execution of the law does not permit the President to substitute his own policy priorities for those that Congress has enacted into law," the report said. The GAO is often called the "congressional watchdog" because it makes sure taxpayers' dollars are used properly. In this case, the agency has determined that our money was being illegally used as leverage for personal gain. The White House has said it disagrees.
Timely, huh? The GAO has said the choice to publish its report today had nothing to do with the fact that the Senate impeachment trial also kicked off today. Supreme Court Chief Justice John Roberts, who will oversee the trial, and all U.S. senators were sworn in. The trial will really kick off next Tuesday.
Know This: Also announced today: Ukraine's interior ministry announced a criminal probe into whether President Trump's associates allegedly spied on former U.S. Ambassador Marie Yovanovitch, after the U.S. House Intelligence Committee published documents suggesting so. Separately, Ukraine investigators also announced today that they are examining a suspected Russian hack into computers at the gas company Burisma (where Joe Biden's son previously worked), another central player in the impeachment inquiries. Read more here.
 
AP Images
2. The Equal Rights Amendment got the votes it needs, but is that enough?

Virginia just became the 38th state to approve the Equal Rights Amendment (ERA) Wednesday, but that doesn't mean it's bound for the Constitution. In order to pass, the ERA needed congressional approval, which it got, and 38 states to ratify it. The amendment, which promises equal rights regardless of gender — think pay equity, sexual harassment protections, blocking pregnancy discrimination — was first proposed in 1923, passed in Congress in 1972, and given a 1979 deadline for 38 states to ratify it. That deadline was extended to 1982, but only 35 states ratified it at the time. Amidst the most recent wave of feminist movements, 3 more states joined the list — first Nevada in 2017, then Illinois in 2018, and now Virginia (after both its legislative assemblies turned blue in 2019). It's a cause for celebration, but largely nominal for now. The Justice Department just released its opinion on the matter, saying the voting process needs to start all over again for the ERA to be passed since the deadline is long over. It's ultimately up to the federal courts to decide.
Know This: Democratic lawmakers in the House and Senate have introduced bills to help pass the ERA, including ones that would get rid of the old deadline, which would allow Virginia's vote to seal the deal. People who oppose the ERA say the wording is too radical and takes away some of women's right to choose.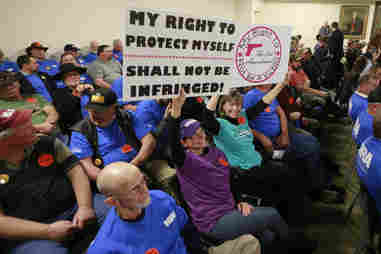 AP Images
3. Also in Virginia: State of emergency ahead of pro-gun rally
Gov. Ralph Northam declared a state of emergency in Virginia ahead of a Second Amendment rally planned for Monday because of "credible threats of violence." Gov. Northam also banned guns in Capitol Square from Friday to Tuesday, saying intelligence officials are warning of safety threats — including white nationalist rhetoric akin to what we saw at the 2017 Unite the Right rally in Charlottesville, VA. The Virginia Citizens Defense League organized the rally and is expecting at least 50,000 people from in and out of state protesting proposed gun control laws by Democratic leaders in the Virginia General Assembly. Democrats recently took control of the state's House and Senate, escalating tensions around possible new gun laws. 
People hoping to join the Second Amendment rally in Richmond will now face heightened security at Capitol Square as they funnel through only one entrance with a metal detector. People carrying guns will be asked to leave, even though open carry is legal in Virginia. Pro-gun activists and some Republican legislators have been critical of the governor's decision to ban guns at the rally, suggesting he might be making tensions worse.
Know This: The FBI has reportedly arrested three people who are suspected of being part of a neo-Nazi group and talking about heading to the Second Amendment rally in Richmond. The men, two Americans and a Canadian, were reportedly armed and charged with a series of federal gun and immigration crimes. Authorities suspect they are part of a "neo-Nazi, white-supremacist network" called The Base, which has become a priority for law enforcement.
AP Images
4. Spiked seltzer > wine?
U.S. wine sales dropped in 2019 for the first time in 25 years, and industry leaders are blaming #WhiteClawSummer. The dip in wine consumption was less than 1% over the past year; on the contrary, consumption of ready-to-drink products like hard seltzers went up 50%, making it an $8 billion industry. (I can attest even my mom switched from wine to White Claw this past summer.) The makers of White Claw admitted this summer (when there was a nationwide shortage of the drink) that sales "accelerated faster than anyone could have predicted."
But vino will be fine: Wine still accounts for 11% of the total alcohol market in the U.S., according to drinks market research group IWSR. Beer sales also went down for the fourth year in a row, as many traditional beer companies also entered the hard seltzer market.
Know This: Also for the first time in more than a decade, Smirnoff is no longer the top-selling distilled spirit. Tito's beat it out, increasing its volume sold by 20% in 2019.
 
Getty Images
5. This Japanese minister is taking paternity leave, and he wants more dads to follow

Japan's Environment Minister Shinjirō Koizumi announced he's taking 2 weeks of paternity leave to inspire more new dads to do the same. He said he plans to spread that time over three months after his first child is born, which is expected later this month. I know — two weeks sounds like nothing, right? Especially in a country with impressive parental leave policies, where both parents can take up to a year off after childbirth. But according to government data, only 6% of new dads took paternity leave in 2018, and a majority of those took less than 2 weeks. Koizumi's move is an attempt to change people's perspective on dads taking leave in a society known for encouraging long work hours and company loyalty from men. Some men in the past have sued employers, saying they were harassed after taking paternity leave (there's even a word for it in Japanese: pata-hara means paternity harassment). The government has said its goal was to reach 13% of men taking paternity leave by 2020.
Know This: The push for paternity leave is happening across the world. The U.S. Department of Labor explained why paternity leave is so important for families, citing tighter bonds between father and child, and improved physical and mental health for kids. It also said paternity leave could help change longstanding gender norms — since men will be around to help with household work — and could increase employment opportunities and pay for women, since women could be less likely to be socially penalized for taking time off.
On that note, cheers everyone! Have a happy Thursday night.
– Sari Soffer, Supervising Producer, NowThis