The Death of Kobe Bryant: Latest Updates
An investigation is unfolding into what caused a deadly helicopter crash as fans and athletes mourn a basketball legend.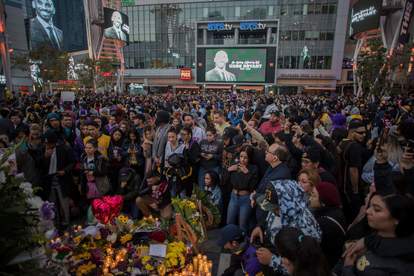 Wednesday, Jan 29, 10 a.m. ET - Downed helicopter was missing an important safety device, more updates from federal officials 
Federal investigators said on Tuesday that the helicopter carrying Kobe Bryant lacked a recommended warning system, the Associated Press reported.
The warning system could have aided the pilot in dangerous, foggy conditions, though it's not clear if it would have prevented the crash that killed nine people. Pilot Ara Zobayan still could have lost control as the aircraft descended at high speeds. The copter's missing safety system is known as "black boxes," and it's required in aircraft that track data and pilot audio.
National Transportation Safety Board (NTSB) investigators also found that the Sikorsky S-76 chopper was 20 to 30 feet from clearing a hilltop when it crashed. The investigators said it could take months to determine what caused the crash.
  
Tuesday, Jan 28, 9 p.m. ET All bodies recovered from crash site
The bodies of nine victims killed in the helicopter crash were recovered, the Los Angeles County Department of Medical Examiner-Coroner announced Monday.
12:30 p.m. ET - Government agency releases footage of Calabasas crash 
The National Transportation Safety Board released video footage of investigators documenting the helicopter crash site in Calabasas.
Monday, Jan 27, 5:40 p.m. ET - NBA Postpones Next Lakers Game; ESPN to Air Final Game
The NBA announced it will postpone the next Los Angeles Lakers game out of respect for those grieving Kobe Bryant's death. The game was planned for Tuesday against the LA Clippers.
"The decision was made out of respect for the Lakers organization, which is deeply grieving the tragic loss of Lakers legend Kobe Bryant, his daughter Gianna and seven other people in a helicopter crash on Sunday," the league's statement read. The game will be rescheduled for another date.
Meanwhile, ESPN announced it would re-air Bryant's final game before retirement, during which he scored a whopping 60 points. The 2016 game will air on Monday, Jan. 27, at 9 p.m. ET.
Monday, Jan 27, 1 p.m. ET - All Nine Victims Have Been Identified
The other seven victims of the helicopter crash were identified Monday. They include college basketball coach John Altobelli, his wife Keri, and their daughter Alyssa, who was a promising athlete and good friend of Gigi Bryant's. Also among the deceased were the pilot Ara Zobayan, basketball coach Christina Mauser, and mother and daughter Sarah and Payton Chester. 
The Altobellis' daughter Alyssa played on the same club team as Gianna. Mauser was the top assistant coach of the Mamba girls' basketball team at the Mamba Academy, where the girls played.
Monday, Jan 27, 12 p.m. ET - Helicopter Carrying Bryant Got Special Clearance to Fly 
The helicopter that crashed on Sunday with Kobe Bryant, his daughter Gianna, and seven others on board was given special clearance to fly in exceptionally foggy weather, according to audio communication during the flight. 
Most flights around the Los Angeles area, including law enforcement helicopters, had been grounded on Sunday morning, according to The New York Times. Officials will be investigating whether air traffic controllers should have given the pilot clearance at all. 
Few details are known about what happened between the time the helicopter left Orange County en route to Bryant's basketball academy and when it crashed into a hillside in Calabasas. Officials said it was particularly difficult to get to the crash site on Sunday due to dangerous conditions, and the medical examiner has said it might take several days to recover all of the bodies.
The National Transportation Safety Board is investigating the crash, along with the FAA and local authorities.
Sunday, Jan 26, 9 p.m. ET - The Grammys Turn Into a Night "For Kobe"
Tragedy loomed over the Grammy Awards on Sunday night, making for a very emotional ceremony. The show was filled with tributes to Bryant, who became a star in the very arena where the Grammys were held — the Staples Center in Los Angeles. Here are some of the most memorable moments.
Saturday, Jan 27, 11 a.m. - Kobe Bryant Dies in Helicopter Crash

Basketball legend and five-time NBA champion Kobe Bryant died in a helicopter crash in California on Sunday morning. Bryant was 41 years old. 
The Los Angeles County Sheriff's Office confirmed that a helicopter had crashed near Calabasas. They were reportedly traveling via helicopter to attend a basketball game where Gianna was playing and father Kobe was coaching, according to sports reporters who tweeted on Sunday.
During a news conference Sunday afternoon, sheriff's officials said there were nine people on board, including one pilot and eight passengers. None survived.
Bryant played 20 seasons for the Los Angeles Lakers between 1996 and 2016.