Who Was Kobe Bryant Off the Court?
Kobe Bryant was an investor, Oscar-winning producer, and ad director.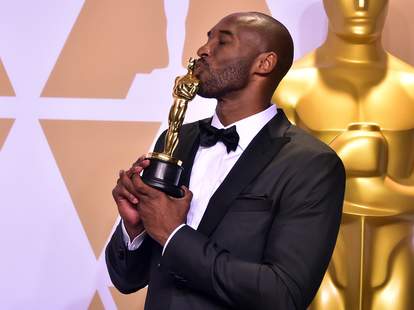 Kobe Bryant was a practically mythical athlete, and his endeavours did not stop on the basketball court. The late Bryant was a multi-hyphenate: an entrepreneur, an Oscar-winning producer, author, television host, and more.
After news broke that Bryant, along with his 13-year-old daughter Gianna, were killed in a helicopter crash on Sunday, athletes and celebrities quickly began paying tribute to the basketball legend's 20-year career with the Los Angeles Lakers. Bryant was 41. 
During his run with the LA Lakers, Bryant won five NBA titles, two Olympic gold medals, and an NBA MVP award.
After his retirement in 2016 from the Lakers, which he joined straight out of high school as a teen in Philadelphia, Bryant continued to pad his resume with a myriad of accomplishments.
1. Bryant produced and narrated the 2017 short film "Dear Basketball"
Widely lauded as a "love letter to basketball," the animated short earned Bryant an Oscar. The film was produced by Granity Studios, a multimedia company that Bryant founded. Through the lens of a kid as the film's main character, the animation alludes to Bryant's boyhood, juxtaposing his youth with his success on the court as an adult. One scene shows the character taking his dad's tube socks and shooting them into a mini hoop. The dad is a depiction of professional player and coach Joe Bryant, 65, who survives Kobe. 
In an interview published on January 23, Byrant attributed some of his storytelling prowess to his high school English teacher. "She was so good and so passionate about what she was teaching about writing and storytelling," Bryant told USA Today. "She firmly believed that storytelling could change the world. And she opened my eyes to this passion I didn't know existed."
2. Bryant invested big in sports drink company BodyArmor and co-directed its ads
As he explored the intersection of business and entertainment, Bryant convinced athletes to perform in 2018 for the sports drink company BodyArmor's ads: professional basketball player Skylar Diggins-Smith appeared in an '80s workout clothes, looking straight out of a Jane Fonda workout video, to sell the sports drink. While Bryant initially invested $2 million in the company, his valuation ballooned to an estimated $200 million after Coca-Cola announced it bought a minority stake in the company.
3. Bryant ran venture capital firm Bryant Stibel
While the venture capital industry is an enigma to most people, Bryant recognized its power. He worked with serial entrepreneur Jeff Stibel to invest in companies, including "Fortnite" creator Epic Games and the now-defunct juice company Juicero.  

4. Bryant oversaw multiple book publishing projects
The NBA superstar's coffee table book "The Mamba Mentality," was published in 2018. It featured photography from Andy Bernstein and ruminations by Bryant on his craft. Granity Studios has also overseen the publication of kids' books including "Training Camp" by Wesley King and "Epoca: The Tree of Ecrof" by Ivy Claire.
While recognizing Bryant's legacy, it's important to acknowledge that he faced a sexual assault charge after he was accused of raping a 19-year-old hotel employee in Colorado in 2003. The survivor was unwilling to testify in court. The incident was resurfaced in the media in 2018, with calls for Bryant's Oscar win to be revoked in the wake of #MeToo.
The criminal case was dropped after the survivor was unwilling to testify in court, with the condition that Bryant would issue a public apology. "Although I truly believe this encounter between us was consensual, I recognize now that she did not and does not view this incident the same way I did," he said in a statement in 2004. "After months of reviewing discovery, listening to her attorney, and even her testimony in person, I now understand how she feels that she did not consent to this encounter."