Party's Over: LA Cuts Off Power At Influencer's House For Repeatedly Throwing Ragers
After giving several warnings, LA Mayor Eric Garcetti said Wednesday he authorized the power be shut off at a popular Hollywood Hills mansion that's reportedly rented by Bryce Hall and other influencers.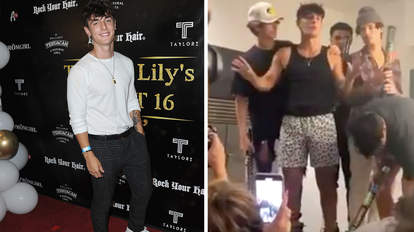 Los Angeles Mayor Eric Garcetti officials took action against popular influencers by cutting off the utilities at a Hollywood Hills mansion where they hosted several large parties, which led to noise complaints and violated public health orders.
Garcetti announced in a statement on Wednesday that he authorized the city to disconnect utilities from a Hollywood Hills mansion that was the site of several large parties and subsequent noise complaints. Though Garcetti did not specify who owned the house or was hosting the parties, the New York Times reported that the party house was rented by well-known TikTok stars Bryce Hall, Noah Beck and Blake Gray.
Video footage from an August 14 party at the mansion were widely shared the following day, showing the house tightly packed with people who weren't wearing masks.
Bryce Hall and Sway House throw massive party in Hollywood Hills with over a hundred people. The Sway boys recently moved from Bel Air to a secluded house in the Hollywood Hills. Party was broken by LAPD around 4am. This is a long thread. What are your thoughts @MayorOfLA? pic.twitter.com/FytCysK2E9

— Def Noodles (@defnoodles) August 15, 2020
According to the Los Angeles Times, police shut the party down that night after neighbors called in to complain. 
"Despite several warnings, this house has turned into a nightclub in the hills, hosting large gatherings in flagrant violation of our public health orders," Garcetti said in the statement. "The City has now disconnected utilities at this home to stop these parties that endanger our community."
According to the mayor's office, the Hollywood Hills house received multiple warnings from local police that the residents would face criminal and civil penalties if they continued to throw parties. When residents didn't comply, the mayor authorized the local water and power company to disconnect service.
Hall hasn't officially addressed the power being shut off and declined a request to comment to the New York Times, but did tweet a vague statement on Wednesday night.
This isn't the first instance of influencers behaving badly, despite public health experts warning against parties and crowds to curb the spread of COVID-19. In July, several YouTubers, TikTok stars and internet personalities were shown at a massive birthday party hosted by YouTuber Nikita Dragun and held at LA's "Hype House." Some influencers with millions of followers including Tana Mongeau and James Charles were seen at the party. 
Earlier this month, controversial YouTuber Jake Paul wouldn't confirm in an interview with Insider that he'd stop partying, despite the ongoing pandemic, adding he's "not the type of person who's gonna sit around and not live" his life. Paul has hosted several large gatherings at his Calabasas home throughout the coronavirus crisis. 
Garcetti issued a public order on August 5 warning LA partiers that their power would be cut off if they continued to throw massive gatherings in the region—which has seen a surge in COVID-19 cases since June. 
Other influencers including Tyler Oakley and Elijah Daniel have been vocal about their disappointment in the massive parties. 
Oakley has tagged multiple influencers in several tweets, asking them to rethink their decision to party given they have such a large platform. He also posted a nearly 8-minute YouTube video on August 18 entitled "dear influencers partying during the pandemic…" in which he said influencers are "acting as if we live in a pandemic-less society."  
Correction: An earlier version of this story said that Los Angeles Mayor Eric Garcetti released a statement about the utility service at a Hollywood Hills house on Thursday. Garcetti issued the statement on Wednesday. This article has been updated to reflect that information.