Women Saw Their Experiences at Work Reflected on Las Vegas Debate Stage
From Elizabeth Warren's fire lines to Amy Klobuchar's ongoing feud with Pete Buttigieg, women watching the debate saw their experiences at work reflected onstage.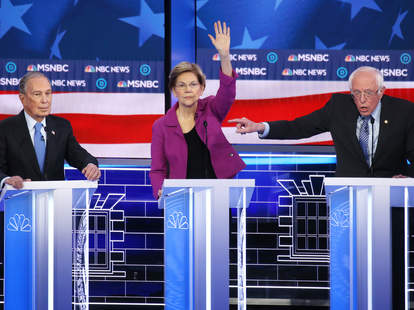 We've all seen it: man gets promoted based on potential, while woman gets promoted (if she's lucky) based on experience — and not to sound like a Taylor Swift song, but she better have more accomplishments than The Man, too. (If you're still dubious, there's been data to back this up).
The ninth Democratic debate in Las Vegas on Wednesday included actual exchanges about the workplace, including Sen. Elizabeth Warren asking former New York City Mayor Mike Bloomberg whether he'll release an unknown number of women who previously worked for his companies from their non-disclosure agreements related to sexual harassment (Reader, he won't). For many professional women who were watching, the debate was also a reflection of experiences at work that are all too familiar.
In Las Vegas, two remaining women candidates in a race that drew the largest number of women candidates in U.S. history competed with men who, in Pete Buttigieg's case, had far less political experience, and in the case of a billionaire like Bloomberg, literally paid his way onto the stage (and didn't let anyone forget it!).
As Warren said in a previous debate, she and Klobuchar were the only candidates onstage who had won every election they've ever been in (Note: this was before the arrival of Bloomberg, who has also never lost a mayoral election).
While Warren had taken the stance of a unifying candidate and infrequently criticized her opponents in previous debates, she was fiery and unforgettable on Wednesday. The candidate who won the hearts of the left in 2017 when Mitch McConnell interrupted her during former Attorney General Jeff Sessions' confirmation hearing got the most speaking time and was the most-tweeted about, according to NBC.
And yet, the remaining women candidates in this race are slipping behind in the polls and largely absent on cable television, despite Warren having the third place lead in pledged delegates, which are what ultimately decide the Democratic presidential nomination.
Here's how people watching responded to Warren's and Klobuchar's appearances.