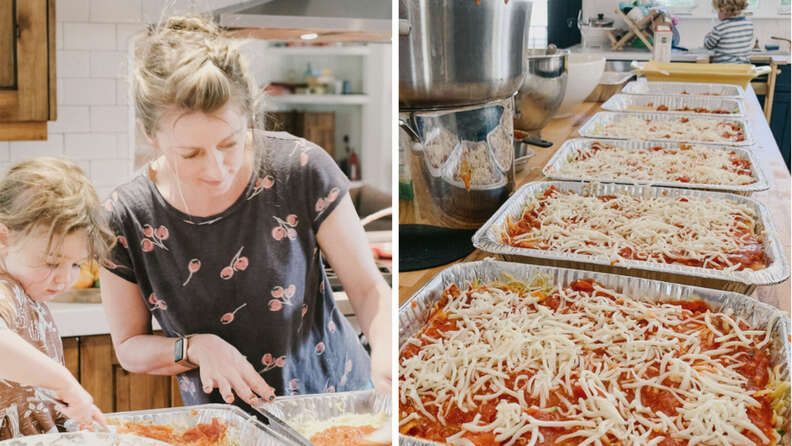 Rhiannon Menn cooks with her daughter Cimorene

| lasagnalove.org
Rhiannon Menn cooks with her daughter Cimorene

| lasagnalove.org
What began as a way for a San Diego chef and entrepreneur to help feed her community during a tumultuous year has turned into an immense community-driven movement spanning 13 states and 266 cities.
To combat the helplessness she was feeling amid the COVID-19 pandemic, Rhiannon Menn turned to cooking to pass the time and make a difference.
"There were so many moms that I knew who had lost childcare, who had lost jobs. They were just feeling stressed out. And so literally one day, I was just like, I'm gonna make extra meals," she told TODAY.
After making multiple trays of lasagna, Menn inquired on several Facebook groups about whether families in the area needed extra meals. While neighbors took her up on her offer, others volunteered to assist cooking more meals for people in need.
As word spread online about Menn and her growing cohort of volunteers, known as "lasagna mamas and lasagna papas," the "Lasagna Love" movement grew into a national operation helping those in need of a free meal.
Interested volunteers can go on the organization's website and sign up to be matched with a family or individual in the area who is in need of meals. People who are interested in the Lasagna Love mission, but are unable to cook, can also sponsor a mama or papa.
As COVID-19 cases increasingly surge across the U.S., vulnerable communities have mounting needs, and millions remain unemployed without a stimulus from the government in sight.
"Your actions don't have to be big to have a big impact. If making lasagna, it takes a few hours and delivering it takes maybe another hour," Menn told TODAY. "That's not a huge lift, but it has an amazing impact on one mom."