Last Month Was Apparently The First March With No School Shootings Since 2002
The shocking observation was shared on Twitter—but there are some caveats.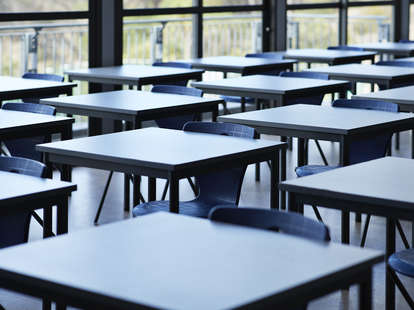 Last month was apparently the first March without a school shooting in nearly 20 years, as the coronavirus has forced schools nationwide to close for the foreseeable future.
Washington Post reporter Robert Klemko first shared the shocking observation Monday on Twitter, but also acknowledged some caveats to his claim.
Klemko cited data from the National School Safety Center and National School Safety and Security Services that found there have been school shootings every March since 2002. The data also includes an incident from March 2002 in which a 13-year-old boy in Carmichael, California, brought a gun with extra bullets to school, but was "subdued by a school resource officer deputy after the first target on his hit list, a science teacher, escaped before he could pull the trigger."
He also referenced Everytown for Gun Safety, a gun reform advocacy group that tracks gun violence in the U.S. According to Everytown, there were seven shootings in March 2020 that took place on school campuses. Four of the shootings were classified as "unintentional discharges," two took place on college campuses but involved no students, and one took place between adults on a high school football field. Only one of the seven incidents — at Stillman College in Alabama — included a fatality, and no students were reportedly involved.
The news follows the nationwide school closures that occurred in March in order to slow the spread of the coronavirus. By the end of March, all 50 states and some territories had either ordered or recommended the closure of all public schools, according to Education Week. Most universities around the country have also closed their campuses.
The crisis has also led to skyrocketing gun sales, with Americans buying about two million guns in March, according to a New York Times analysis of federal data. That data reportedly marks the second-busiest month ever for gun sales behind January 2013, in the wake of proposed restrictions after the Sandy Hook shooting.