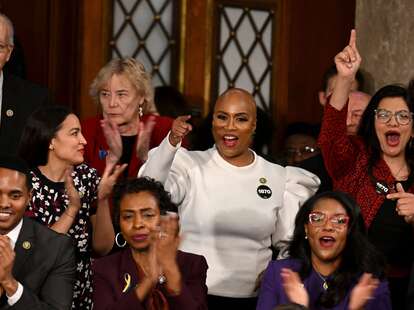 If you tuned into last night's State of the Union address, you probably noticed many lawmakers in the crowd wearing highly-visible pins of various shapes and kinds. Each of them was intended as a subtle political statement for the highly-watched event.
Many individuals in the Congressional Black Caucus—including prominent members of "The Squad" like Reps Ilhan Omar and Ayanna Pressley—were seen donning "1870" pins. 1870 is the year police killed Henry Truman, a freed Black man. The members wore the 1870 pin to bring attention to the fact that police racism, in the headlines lately due to the killing of Tyre Nichols, is far from a new issue.
"153 years later, nothing has changed … We are tired of mourning and demand change," read an info card accompanying the pin, which was handed out to some journalists.
Many Democrats, including Senators Patty Murray, Elizabeth Warren, and Mazie Hirono, rocked crayon pins during the address. Those pins were advocating for affordable child care policies, and hoped to "spark a conversation about how you can't talk about the economy without talking about child care," per a release from Murray's office.
Another Democratic Senator, Ed Markey of Massachusetts, wore a pin with the word "ABORTION" written in capital letters. "I'm wearing my abortion pin from @PPFA to tonight's State of the Union address," Markey wrote on Twitter. "Abortion is essential healthcare and we need to codify this right."
Other pins seen in photographs from around the chamber included a show of solidarity for Ukraine from former Speaker Nancy Pelosi, and a "Don't Tread on Me" pin on GOP Rep. George Santos.