Leaders Worldwide Are Condemning Trump & The Pro-Trump Mob Who Stormed Capitol Hill
"This is on Donald Trump, period. He called folks to D.C. and gave them marching orders. He needs to be impeached and removed immediately." — Rep. Rashida Tlaib (D-MI)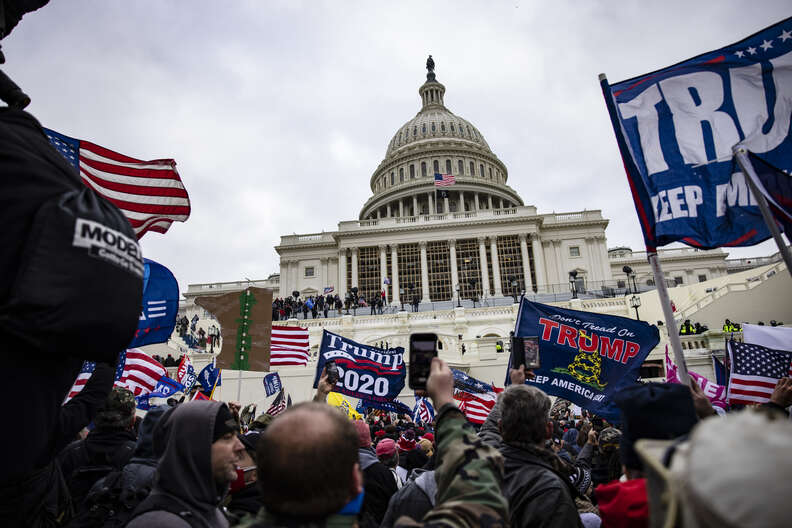 Several lawmakers and leaders worldwide are condemning President Trump as well as the violent mob of his supporters who stormed Capitol Hill on Wednesday, protesting the 2020 presidential election results. The riot came after Trump for months touted baseless claims that the election was fraudulent, with other GOP leaders' support, and encouraged protests this week.
Crowds forced their way into the Capitol Building as Congress voted to certify Joe Biden's presidential victory. Members of Congress were forced to evacuate, as protestors breached the building and safety became a concern.
D.C. Police Chief Robert J. Contee III confirmed on Wednesday that one person sustained a gunshot wound inside the Capitol. Later Wednesday, a police spokesperson confirmed to multiple news outlets including NBC, CBS, and BuzzFeed News, that the victim, a woman, had died.
Hours after protests turned violent, Trump released a video message to his supporters asking them to leave the Capitol Building after repeating his unfounded theory that the election was "stolen." Facebook took down Trump's video, and Twitter banned likes, replies, and retweets of the video "due to a risk of violence."
"We had an election that was stolen from us. It was a landslide election and everyone knows it. Especially the other side," Trump said. "But you have to go home now. We have to have peace."
Several leaders across the country and worldwide wrote scathing messages directed at President Trump and his followers as the mobs descended on D.C. Some lawmakers are calling for the president, who has two weeks left in office, to be impeached again and removed from office immediately.