Leading COVID-19 Vaccine Trial Paused Due To "Unexplained Illness"
After AstraZeneca put its Oxford vaccine trial on pause due to a participant's illness, Dr. Anthony Fauci said such a move is "not uncommon" for a clinical trial.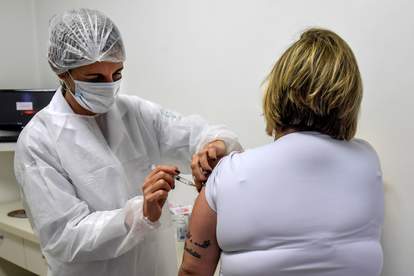 A leading COVID-19 vaccination study out of Oxford has been paused after one of its participants contracted an "unexplained illness."
On Wednesday, pharmaceutical giant and partner of Oxford's vaccination development AstraZeneca announced in a statement that the illness "occurred in the UK Phase III trial." The company has started an investigation, which it called a "standard review process," and paused all other trials to review the data on the illness.
"This is a routine action which has to happen whenever there is a potentially unexplained illness in one of the trials, while it is investigated, ensuring we maintain the integrity of the trials," the statement read. "In large clinical trials, illnesses will happen by chance and must be independently reviewed."
According to STAT News, the CEO of AstraZeneca Pascal Soriot told investors Wednesday that the participant was a woman in the UK who "experienced neurological symptoms." The report also stated that the study paused once in July after a participant experienced neurological symptoms and was later diagnosed with multiple sclerosis. That diagnosis was not linked to the vaccine, Soriot said.
Soriot said in the announcement that a "committee of independent experts" will determine when the trials can restart.
Dr. Anthony Fauci, head of the National Institute of Allergy and Infectious Diseases, told "CBS This Morning" on Wednesday that pausing the trial is "unfortunate" but "not uncommon at all." He added that researchers "can't presume" that the adverse reaction isn't tied to the vaccine, and that they need to investigate as part of a safety precaution.
"We see this, generally, for the most part, but you don't know until you investigate it," Fauci said. "This is an example of the kind of thing that you do to make sure we're dealing with a product that's safe."
The Oxford study has been a leading candidate for a potential COVID-19 vaccine and showed promising immune responses in its first stages of trials. According to AstraZeneca, the vaccine is made of a "weakened version of a common cold virus" that triggers the immune system to attack the COVID-19 virus if it enters the body.
AstraZeneca Joined Other Pharma Companies In Pledging Not To Rush
On Tuesday, AstraZeneca joined eight other companies in a pledge not to rush a coronavirus vaccine for government approval and to follow "sound scientific principles."
In a joint letter, the companies said they would "always make the safety and well-being of vaccinated individuals our top priority."
As the race for a vaccine continues worldwide, some scientists are reportedly worried that political pressure from the Trump administration might push the Food and Drug Administration to grant emergency use authorization of a vaccine too soon. Though Fauci said last week he is "not concerned about political pressure" and that "the only time you get concerned is if there is any pressure to terminate the trial before you have enough data on safety and efficacy."
President Trump has continuously said that a vaccine will be available ahead of Election Day in November. Fauci also said that while it seems "unlikely" that a vaccine will be ready in October, "you can't rule it out."
"The more likely scenario is that we will know [about a vaccine] by the end of this calendar year, and hopefully we will be able to start vaccinations in earnest as we begin 2021," Fauci continued on CBS.