Students at LeBron James' School Were Surprised with Free College Tuition
The I Promise School students will be eligible for free tuition and room and board at Kent State University starting fall 2021.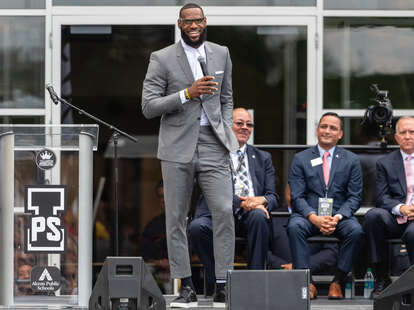 Getty Images
Getty Images
Students at LeBron James' school in Ohio got an Oprah-style surprise: they were told to reach under their seats, where they found envelopes with the news that they'd get free tuition for the 2021-22 academic year.
The junior class of 193 students at the I Promise school in Akron, Ohio, were on a campus tour Wednesday at Kent State University when they found out they will now be eligible for four years of free tuition and one year of free room and board at Kent.
They were the first class at James' I Promise School, which opened in 2018, and are expected to start college in the 2021-22 academic year.
The scholarship comes from a partnership between the university and the LeBron James Family Foundation.
To qualify for the scholarship, students must be admitted to the university, apply for financial aid, maintain a certain GPA, and complete a set number of semesterly community service hours, Cleveland.com reported.
"We have already seen the impressive results that the I PROMISE Network is having on its participating students," Kent State's Interim Senior Vice President and Provost Melody Tankersley Tankersley said in a statement. "We are so pleased that Kent State will become the next step in the educational journey of these amazing young people, and so happy that we can start them on their way to exciting careers and lives full of inspiration."
Kent State is also launching a fundraising initiative, through which anyone can contribute or start fundraising to cover the students' other expenses, including the remaining three years of room and board, books, and other college-related costs.
I Promise students are also eligible to attend the University of Akron for free. James started the school as an experiment, and it's quickly grown since 2018.