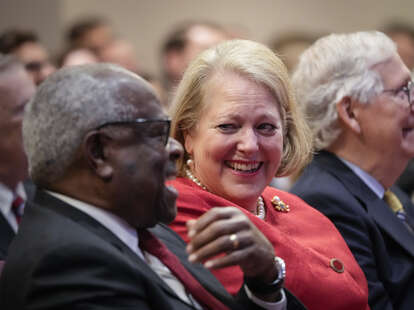 A new report from the Washington Post found that Ginni Thomas, the wife of Supreme Court Justice Clarence Thomas, was discreetly paid thousands of dollars in 2012 and that Leonard Leo, a conservative judicial activist who arranged for the payment, specifically requested that Ginni Thomas' name be left off of the paperwork.
In 2012, Leo asked Kellyanne Conway — who later became one of Donald Trump's senior advisers — to bill a nonprofit, the Judicial Education Project, and "give" Ginni Thomas "another $25K." Leo noted that there must be "no mention of Ginni, of course" in the documentation of the transaction. That same day, when Conway billed the nonprofit $25K, she wrote that the reason for the transaction was "supplement for constitution polling and opinion consulting."
When asked for comment about leaving Ginni Thomas' name off of the billing paperwork, Leo told the WaPo that it was because "knowing how disrespectful, malicious and gossipy people can be, I have always tried to protect the privacy of Justice Thomas and Ginni."
Later that year, the Judicial Education Project filed an amicus brief to the Supreme Court for a key voting rights case. Clarence Thomas then reportedly wrote an opinion for the landmark case in which he sided with the nonprofit's stance.
According to documents reviewed by the WaPo, Conway's firm paid Ginni Thomas' firm a total of $80,000 between June 2011 and June 2012. Conway's firm planned on sending an additional $20,000 before the end of 2012.