Lori Loughlin, Husband Mossimo Giannulli Get Prison Time In College Admissions Scam
The sentencing memo said Loughlin's husband referred to a guidance counselor a "nosey bastard" when their daughter asked if she could "list USC as her top choice school."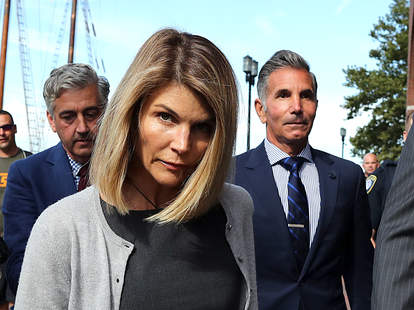 Actor Lori Loughlin was sentenced Friday to two months in prison and two years of supervised release following her involvement in the 2019 college admissions scandal dubbed "Operation Varsity Blues."
U.S. District Judge Nathaniel Gorton accepted the former "Full House" star's plea deal stemming from accusations that she and her husband paid half a million dollars to illicitly place her daughters into USC under the guise of being student-athletes. Gorton also ordered her to pay a $150,000 fine and serve 100 hours of community service. BuzzFeed News reported the sentencing took place over a Zoom call. 
Her husband, fashion designer Mossimo Giannulli, received five months as the result of his plea deal and must pay a $250,000 fine. His sentence was higher because he was "the more active participant in the scheme," according to the sentencing memorandum. But Assistant U.S. Attorney Justin O'Connell reportedly said Loughlin was "fully complicit," as she "agreed that fake athletic profiles would be made for her daughters so they could be recruited as coxswains in a sport they did not play," ABC News reported.
According to a 2019 criminal complaint filed against the two and a slew of others involved in the scandal, Loughlin and Giannulli were accused of paying $500,000 to have their two daughters fraudulently designated as recruits to the USC crew team — even though neither of them participated in the sport. 
The sentencing memorandum stated: "In January 2018, Loughlin, Giannulli, and their younger daughter discussed how to avoid the possibility that a high school counselor would disrupt their scheme. When their daughter asked whether she should list USC as her top choice school, Loughlin replied: 'Yes . . . . But it might be a flag for the weasel to meddle.' Giannulli added: 'F[***] him,' and remarked that the counselor was a 'nosey bastard.' Loughlin thereafter instructed her daughter: 'Don't say too much to that man.'"
On May 22, the couple pleaded guilty to one count of conspiracy to commit wire and mail fraud, with Giannulli also pleading guilty to one count of conspiracy to commit honest services wire and mail fraud. 
Another high-profile person involved in the scandal was actor Felicity Huffman, who pleaded guilty and was sentenced to 14 days in prison, a $30,000 fine, a year of supervised release, and 250 hours of community service. She was released after 11 days.