Meghan Markle Reveals Recent Miscarriage In Powerful Op-Ed
"Losing a child means carrying an almost unbearable grief, experienced by many but talked about by few."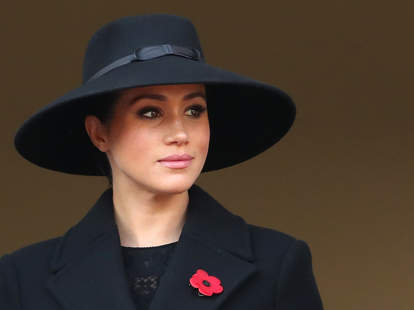 In a poignant op-ed she penned in the New York Times, Meghan Markle, the Duchess of Sussex, revealed she was pregnant with her second child but experienced a miscarriage in July of 2020.
The Duchess wrote that she "felt a sharp cramp" in July while changing her son Archie and fell to the floor with him in her arms.
"I knew, as I clutched my firstborn child, that I was losing my second," she said.
She also recounted the hardship the experience had on her husband Prince Harry.
"I lay in a hospital bed, holding my husband's hand. I felt the clamminess of his palm and kissed his knuckles, wet from both our tears. Staring at the cold white walls, my eyes glazed over. I tried to imagine how we'd heal," she recounted.
According to the Mayo Clinic, around 10 to 20% percent of known pregnancies end in miscarriage — but women still frequently keep their experinces secret for fear of the stigma attached to miscarrying.
"Losing a child means carrying an almost unbearable grief, experienced by many but talked about by few," the Duchess said in her essay. "In the pain of our loss, my husband and I discovered that in a room of 100 women, 10 to 20 of them will have suffered from miscarriage. Yet despite the staggering commonality of this pain, the conversation remains taboo, riddled with (unwarranted) shame, and perpetuating a cycle of solitary mourning."
She also associated her experience with some of those who have lost loved ones to COVID-19, dealt with police violence, and have struggled with the other hardships and uncertainty during the tumultuous year.
"So this Thanksgiving, as we plan for a holiday unlike any before — many of us separated from our loved ones, alone, sick, scared, divided and perhaps struggling to find something, anything, to be grateful for — let us commit to asking others, 'Are you OK?'" the Duchess urged. "As much as we may disagree, as physically distanced as we may be, the truth is that we are more connected than ever because of all we have individually and collectively endured this year."
The Duchess is not the only notable woman who has recently revealed their experience losing a child mid-pregnancy.
In October, cookbook author and host Chrissy Teigen and her husband, musician John Legend, announced that they lost their third child after pregnancy complications. The announcement coincided with the start of October, which is Pregnancy and Infant Loss Awareness Month. The awareness month is meant to destigmatize the grief that women and families deal with after losing a baby.