Louisiana Tosses Homicide Charge From Abortion Bill
The State House voted 65-26 to make significant amendments to the Abolition of Abortion in Louisiana Act.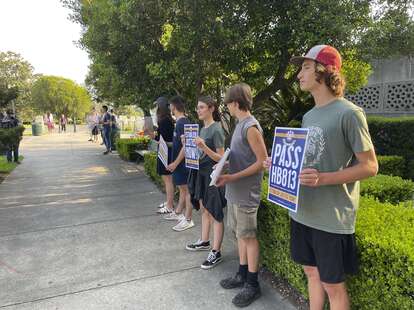 "The vast majority in this room claim to be pro-life, yet today, when Roe is on the chopping block and we have the clear opportunity to end abortion in our state, we are faltering and trying to explain it away," McCormick said during debate on the House floor.
"This is a thorny political question, but we all know that it is actually very simple. Abortion is murder," he added.
Despite Louisiana's deeply conservative presence, specifically in regard to reproductive health care legislation, several Republican lawmakers vocalized that they found the bill to be too radical, and urged McCormick to consider the severity of its potential ramifications.
Rep. Alan Seabaugh (R-LA) said during the session, "Pro-life bills fly off this floor with little to no opposition and they have for decades. This bill will not prevent a single abortion from occurring — not one." He observed that if the current formulation of the bill were to pass, "it will be enjoined the next day because Roe v. Wade is still the law of the land."
Louisiana's Democrat governor, John Bel Edwards, also harangued against the bill, arguing in a statement that "House Bill 813 is not a pro-life bill," but rather is a "patently unconstitutional" piece of legislation. "To suggest that a woman would be jailed for an abortion is simply absurd," he said.
Edwards also added that the bill would criminalize intrauterine birth control devices (IUDs), emergency contraception, and in vitro fertilization.