Louisville Mayor Releases Video Showing Events Before Cops Killed Black Business Owner
The Louisville police chief was fired after David McAtee's fatal shooting, during which the officers had their body cameras turned off. Police now say McAtee may have fired first — but they couldn't confirm that.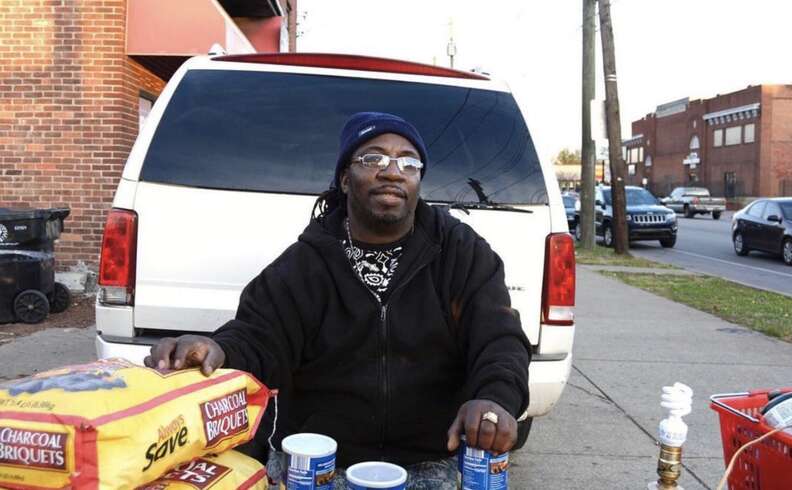 Photo of David McAtee, courtesy of WAVE/Jacorey Arthur
A Louisville, KY police chief was fired Monday after officers shot and killed a Black business owner while their body cameras were turned off. One day later, the city's mayor released video footage showing the moments before David McAtee was killed at his own restaurant that police believe could prove he fired at officers first — but police could not say with certainty whether that was the case.
In a Monday statement, Kentucky Gov. Andy Beshear said that Louisville Metro Police Department and National Guard were dispatched to 26th and Broadway, and were fired upon. They then returned gunfire, striking and killing McAtee, who owned YaYa's BBQ. The statement added that the Kentucky State Police would be investigating.
Louisville Mayor Greg Fischer said on Monday evening he had learned that the officers involved had their body cameras turned off during the incident. Officials on Monday did not immediately say who fired at officers or whether McAtee was armed.
"This type of institutional failure will not be tolerated," Fischer said. "Accordingly, I have relieved Steve Conrad of his duties as chief of Louisville Metro Police Department."
Deputy Police Chief Robert Schroeder, who will be replacing Conrad, also said that the two LMPD officers who returned fire had placed on administrative leave pending the Investigation.
"The two officers that fired their weapons violated our policy by either not wearing or not activating their cameras," Schroeder said. "That is completely unacceptable and there is no excuse… We will review the entire incident to determine if there are any other policy violations that occurred. I assure you we will follow up and there will be discipline for failing to utilize our cameras."
Then, on Tuesday afternoon, Fischer announced that authorities had "acquired new information" and released security camera footage from McAtee's business that show the moments before McAtee was killed. The footage does not have audio.
In the footage, McAtee is seen with several others inside before he leans out of a doorway. McAtee appears to lift his arm, and the group surrounding him is noticeably startled, but only McAtee's backside is visible.
The footage later shows McAtee and a group outside, where he can be seen cooking on a grill, before officers come onto the property.
Maj. Paul Humphrey said during Tuesday's conference that the officers wanted the group to "disperse the crowd so it did not become unruly" even though they were not at a protest. Officers shot pepper balls at the group, he said.
Humphrey could not confirm whether McAfee fired a gun at officers, saying, "Mr. McAtee appears to fire at officers … but without the audio and without having interviewed the officers yet, that is yet to be determined."
When asked who officers believe McAtee was firing at, Humphrey said, "We don't have that information right now." When asked if McAtee fired a gun first based on the footage, Humphrey said, "It appears right now from the footage, we still have to put all the pieces of the investigation together … but that's what it appears at this point." Humphrey did not say whether police recovered a gun from the scene.
Humphrey also said he was unsure whether McAtee was shot by local police or the National Guard.
While warning that the footage could be "traumatizing," the mayor said that the video was released "in the name of transparency."
"Often, these tragic situations lead to more questions than answers & as Chief Schroeder said, these videos do not provide all the answers," Fischer continued. "That's why the investigations by the Public Integrity Unit, National Guard & Kentucky State Police are so important."
U.S. Attorney Russel Coleman announced Monday night that the FBI and the U.S. Attorney's Office will investigate the shooting "and will take any appropriate action that is warranted by the facts and the law."
McAtee's mother, Odessa Riley, told local news outlet WAVE that McAtee "fed all the policemen…Police would go in there and talk with him and be with him. He fed the police. He fed them free. All he did on the BBQ corner was trying to make a dollar for himself."
Witnesses reportedly said the gathering wasn't part of the protests and that they congregate in the neighborhood often to play music and eat, WAVE reported.
McAtee's death comes during nationwide demonstrations protesting the death of George Floyd, an unarmed Black man who died after a Minneapolis officer kneeled on his neck and choked him. Protests in Louisville have also been centered around the death of Breonna Taylor, a 26-year-old EMT who was shot and killed in March by police after three officers forced their way into her home.