Major Companies Are Paying Employees Who Volunteer As Poll Workers
The COVID-19 pandemic has led to a shortage of poll workers ahead of the Nov. 3 election and more than 60 companies have joined an alliance to encourage employees to volunteer.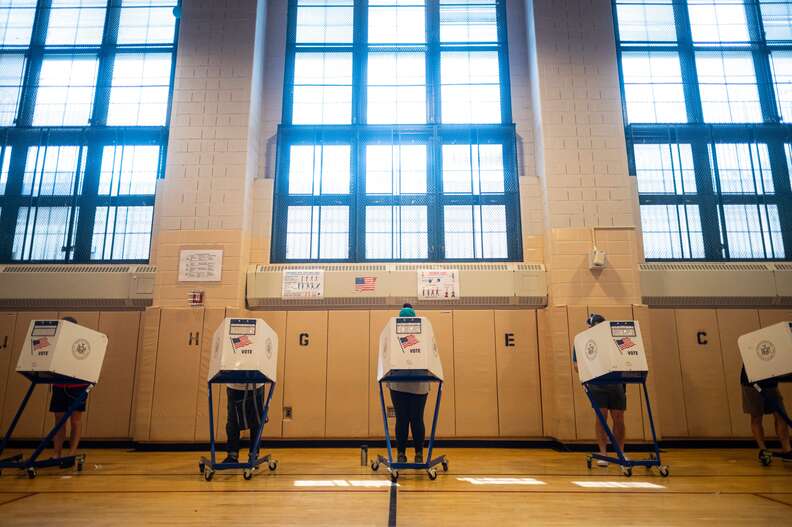 Several major retail companies are encouraging employees to volunteer as poll workers by offering to pay for their day of service.
Companies including Old Navy, Tory Burch, and Warby Parker announced this month that they would give paid time off to employees who volunteer as poll workers for the November 3 presidential election.
The companies join more than 60 others under the Civic Alliance that have pledged to "take concrete steps" to encourage employees and consumers to volunteer as poll workers. Starbucks, Target, Uber, Lyft, Microsoft, and Twitter are also part of the alliance.
Other companies including Patagonia and Blue Apron have vowed to close down for Election Day to ensure their employees can get out and vote.
The Civic Alliance is partnered with Power The Polls, an initiative from the Fair Elections Center that has worked to recruit a new generation of poll workers during the pandemic.
According to the Pew Research Center, a majority of poll workers are 60 years old and up — many of whom are opting out this year because of the risks of COVID-19, leading to a shortage of volunteers. The Centers For Disease Control and Prevention warned that people over the age of 65 are some of the most vulnerable to adverse side effects of the virus. Power The Polls said its working with local organizations to provide personal protective equipment for volunteers.
With a shortage of poll workers, wait times on Election Day could be longer, while some polling stations may be forced to shut down if there aren't enough volunteers.
The Civic Alliance hopes to recruit 250,000 new poll workers. As of August 31, the group wrote that it was "more than halfway there."
"A successful democracy is reliant on the active participation of its citizens, and we, as business leaders, must take the necessary steps to ensure that voting is protected at all costs," said Richard Lovett, President, Creative Artists Agency (CAA), a co-founder of Civic Alliance. "The work of the Civic Alliance is critical in helping shape our country's future by ensuring that all Americans can safely complete their civic duty."
According to the Civic Alliance, participating companies will also help employees register to vote and give them time to cast their ballots on November 3.