Major Companies Are Going All In for Pride Month While Also Supporting Anti-LGBTQ+ Legislators
Although companies talk about supporting their LGBTQ+ employees, their actions don't always match.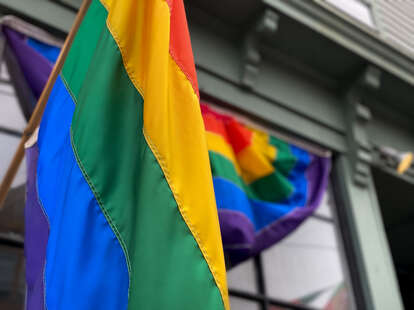 Credit: Getty Images
Credit: Getty Images
time to celebrate, allies must not lose sight of the fact that the LGBTQ+ community should be celebrated year-round. Every year, however, many major companies continue to fall short of understanding that.
During Pride Month, companies spend June 1 to June 30 adorning their websites with rainbow flag logos, changing their menu items, and profiting off of the LGBTQ + community. Their support often doesn't go beyond surface level, and their behind-the-scenes actions don't always match.
Many people are demanding that companies be transparent about where they donate their money. The Corporate Accountability Project by Data for Progress follows the money to help people keep track of who these companies are supporting.
As part of the project, Data for Progress released a detailed list of Fortune 500 companies' donations to anti-LGBTQ+ politicians from 2019 to March 2022. The report found that Toyota, AT&T, and Comcast donated the most to anti-LGBTQ+ political campaigns, donating about $601k, $307k, and $121k, respectively. Other companies on the list include Amazon, Microsoft, State Farm, and Budweiser.
As we close out Pride Month, it's important to still hold companies accountable and demand transparency year-round.