Major Hydroxychloroquine Study Retracted After Editors Question Reliability
"Serious questions have been raised about the reliability of the findings reported in this paper."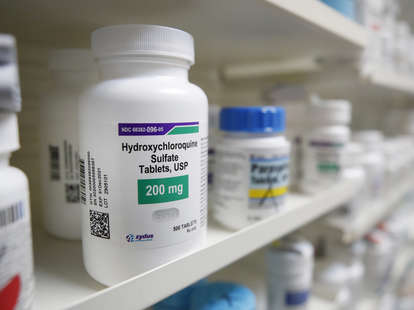 Renowned medical Journal The Lancet retracted a study on June 4 that claimed coronavirus patients who took antimalarial drugs including hydroxychloroquine had an increased risk of death. The study gained significant attention as President Trump has repeatedly touted the drug as a treatment for COVID-19.
Shortly after The Lancet's retraction, The New England Journal of Medicine retracted a separate study about blood pressure medications in coronavirus patients. Both studies had relied on data from the same company, Surgisphere, and health experts, including Lancet editor-in-chief Richard Horton, later questioned its sources and analysis.
"Serious questions have been raised about the reliability of the findings reported in this paper," Horton wrote on Twitter June 2, in regards to the study critical of hydroxychloroquine.
According to health news website Stat, the authors of the studies "who were not directly involved with the data collection and sources" requested the retraction.
"We can no longer vouch for the veracity of the primary data sources," Mandeep Mehra of Brigham and Women's Hospital, Frank Ruschitzka of University Hospital Zurich, and Amit Patel of University of Utah said in a statement issued by The Lancet. "Due to this unfortunate development, the authors request that the paper be retracted."
Authors of the large-scale hydroxychloroquine study originally asserted that, based on the data, they did not observe any benefit for coronavirus patients using the antimalarial drugs soon after diagnosis. Following its publication in May, media outlets widely cited its findings. The World Health Organization also paused clinical trials testing hydroxychloroquine on coronavirus patients (but it then announced June 3 that it would resume them, after reviewing safety concerns associated with the drug.)
President Trump has continually promoted hydroxychloroquine as a potential "cure" treatment for the virus, but health officials, including the nation's leading infectious disease doctor Anthony Fauci, have repeatedly contradicted him. Last month the president even claimed, to the skepticism of many, that he himself had been taking the antimalarial drug.
The Food and Drug Administration has not yet approved any drug for the treatment of COVID-19 and has warned against using hydroxychloroquine outside of clinical trials or hospitals.