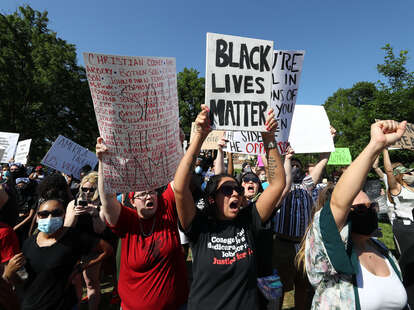 The longtime editor of the Kansas City Star, a regional newspaper in the Midwest, made a rare move for leadership at the legacy news outlets: He apologized for decades of racist and biased reporting at the publication.
Editor Mike Fannin published a letter on Sunday titled "The truth in Black and white," outlining how the publication has "disenfranchised, ignored and scorned generations of Black Kansas Citians." Fannin, who has been the top editor at the publication since 2008, said that the death of George Floyd in Minneapolis this spring had "forced institutions to look inward," and said reporters dug into the paper's archives and compared its coverage to that of the Black press to make its assessment. Staff also reached out to individuals who had lived through some of the historical events the paper had covered as well as retired editors of The Star and what was once its sister paper, The Kansas City Times.
"Reporters were frequently sickened by what they found — decades of coverage that depicted Black Kansas Citians as criminals living in a crime-laden world," Fannin wrote. "They felt shame at what was missing: the achievements, aspirations and milestones of an entire population routinely overlooked, as if Black people were invisible."
Fannin said that members of Black families in the area "grew up with little hope of ever being mentioned in the city's largest and most influential newspapers, unless they got in trouble."
The editor referenced prolific jazz saxophonist and Kansas City native Charlie Parker, who never got a significant headline in The Star until he died. Fannin wrote: "Even then, his name was misspelled, and his age was wrong." He also said the The Star remained "largely on the sidelines" as historic civil rights conflicts and movements were taking place mid-century.
"'Appalling and biased," is how community members we met with described the newspapers' desegregation coverage, in particular," Fannin wrote.
The longtime editor concluded the letter with "good news," saying that solutions for The Star's past shortcomings "are not impossible." He said the publication hired an editor in the fall to focus on race and equity issues and is making more diverse hires a priority. He also listed more contemporary instances of race-related issues The Star has recently covered and said the paper is working to make its content more accessible to "our diverse communities.". He encouraged other Kansas City businesses to "come forward and own their history as well, tell their stories, get the poison out — for the sake of the community and their employees."
"It's been an education for us, and yet it's impossible to acknowledge every failure or bad decision or mangled assignment," he said. "We think these stories are representative."
The Kansas City Star isn't the first publication to acknowledge its racially insensitive reporting. The publisher for The Los Angeles Times in September published a piece acknowledging its past biased reporting.