Thousands Fight For Racial Injustice On Anniversary Of Historic "March On Washington"
"You might have killed the dreamer, but you can't kill the dream."—Rev. Al Sharpton delivered a speech 57 years to the day since Martin Luther King Jr. gave his "I Have A Dream" speech, standing in the same spot in Washington, DC.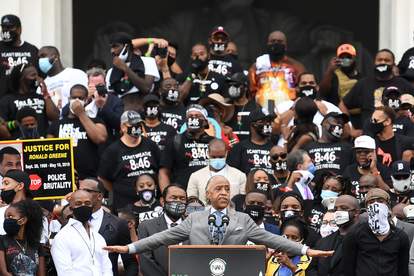 57 years after Dr. Martin Luther King Jr. delivered his most famous speech, in Washington D.C., thousands marched to the very same spot on Friday to stand up against systemic racism and police brutality as nationwide protests demanding change continue.
The event, put on by the civil rights organization the National Action Network, was called "Commitment March: Get Your Knee Off Our Necks." It welcomed people to march the same day that King led the March On Washington on August 28, 1963. 
Standing where King delivered his "I Have A Dream" speech at the Lincoln Memorial, Rev. Al Sharpton was joined by King's oldest son, Martin Luther King III, and the families of George Floyd, Breonna Taylor, Ahmaud Arbery, Jacob Blake, and others.
Sharpton repeatedly told the mask-wearing crowd to keep social distance to stay safe during the march. According to its website, organizers would be providing marchers with masks and required all participants to wear them.
Throughout the speeches, the crowd could be heard chanting names including Taylor's and Floyd's, along with "No justice, no peace!"
While talking about the civil rights movement in the 1960s, Sharpton said they went from fighting an Alabama police chief known as "Bull Connor" to present-day "Bull Trump."
"We've gone from a mean-spirited sheriff to a mean-spirited president," Sharpton said.
He also criticized the president for not mentioning Jacob Blake—a 29-year-old Black man shot seven times by police in Kenosha, WI on Sunday—during his Republican National Convention speech Thursday night.
"How do you speak when this young man Jacob sits in a hospital and you won't call his name?" Sharpton continued. "Well Mr. Trump, look right down the block from the White House. We've come to Washington by the thousands. We'll call their names. We'll never let America forget what you've done. Call their names!"
Sharpton also referenced Dr. King's notion of "having a dream" and said "we've always had the dream." 
"You might have killed the dreamer, but you can't kill the dream," Sharpton said. 
Democratic Vice Presidential candidate Kamala Harris delivered a virtual speech commemorating the anniversary of the March On Washington.
Martin Luther King III stood where his father did and encouraged Americans to take action:
'While we honor our history, we must be a living movement not a monument … if you're looking for a savior, get up and find a mirror' — On the 57th anniversary of 'I Have a Dream,' MLK3 called on Americans to take action and not just idly quote his father pic.twitter.com/xVyFGUDVEX

— NowThis (@nowthisnews) August 28, 2020
MLK's granddaughter, Yolanda Renee King, spoke:
In powerful remarks, MLK Jr.'s only granddaughter Yolanda Renee King calls on her generation to end systemic racism, police violence, gun violence, the climate crisis, and poverty, 'ONCE AND FOR ALL, NOW AND FOREVER' #MarchOnWashington pic.twitter.com/FQNajWMBcE

— NowThis (@nowthisnews) August 28, 2020
Al Sharpton explained why the U.S. still needs Black Lives Matter:
Jacob Blake's sister delivered an impassioned speech:
'When you say the name Jacob Blake, make sure you say father, make sure you say cousin, make sure you say son, make sure you say uncle, but most importantly, make sure you say human.' — Letetra Widman shared this powerful message about her brother Jacob Blake pic.twitter.com/0KHL5FYVy5

— NowThis (@nowthisnews) August 28, 2020
George Floyd's brother fought back tears as he thanked supporters for keeping him going:
"I wish George were here to see this right now. ... I'm marching for George. For Breonna. For Ahmaud. For Jacob," says George Floyd's brother Philonese Floyd during the March on Washington.

Leaders "need to follow us... to enact laws to protect us," he adds. pic.twitter.com/0cVIGgKtcS

— CNN Newsroom (@CNNnewsroom) August 28, 2020