Marie Yovanovitch Honored for 'Excellence in the Conduct of Diplomacy'
Yovanovitch, a former ambassador to Ukraine and key impeachment witness against President Trump, received a standing ovation while accepting the honor at Georgetown University.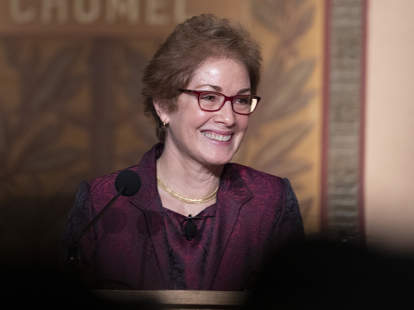 Marie Yovanovitch was honored with the Trainor Award for "Excellence in the Conduct of Diplomacy" on Wednesday at Georgetown University. The award has previously been presented to former Secretary of State Madeleine Albright and then-United Nations Secretary General Kofi Annan.
During Yovanovitch's first public comments since her testimony during the House's impeachment inquiry hearing, she warned that " the State Department is in trouble," and criticized senior leaders for a "lack [of] policy vision, moral clarity, and leadership."
"We need to re-empower our diplomats to do their job. We can't be afraid to share our expertise or challenge false assumptions," she continued.
Yovanovitch, a 33-year foreign service officer who served under several U.S. presidents, was ousted as U.S. ambassador to Ukraine by Trump for not helping pressure Ukraine to investigate the president's political rivals.
During the 2019 House impeachment hearings, Yovanovitch was praised for her poise and professionalism, even while Trump attacked her character on Twitter. She also testified about the alleged smear campaign perpetrated against her by Trump's personal attorney, Rudy Giuliani. In January, Ukraine launched a criminal probe into whether Trump's associates allegedly spied on Yovanovitch.
"Our Ukraine policy has been thrown into disarray, and shady interests the world over have learned how little it takes to remove an American Ambassador who does not give them what they want," she said, during the testimony.
Despite her bleak take on the current state of affairs, Yavanovitch urged students to do the right thing when faced with compromising direct orders.
"At a certain point, it is harder to do the wrong thing than the right thing," she said.