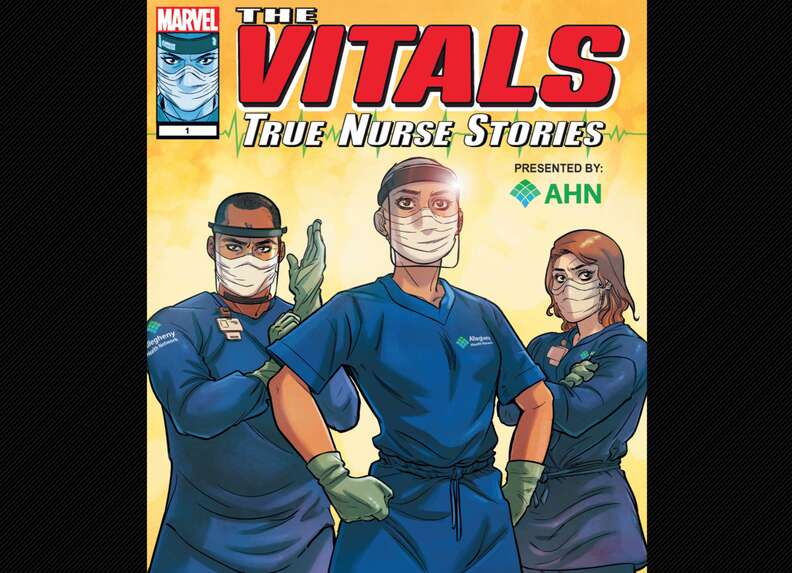 "The Vitals: True Nurse Stories" follows health care workers as they fight through fatigue to treat COVID-19 patients during a pandemic.

| Marvel Comics
"The Vitals: True Nurse Stories" follows health care workers as they fight through fatigue to treat COVID-19 patients during a pandemic.

| Marvel Comics
"Not all heroes wear capes; they wear scrubs."
Marvel Comics has teamed up with Allegheny Health Network (AHN) in Pennsylvania to illustrate the stories of "real-life superheroes" in a new comic book about nurses who have worked throughout the pandemic.
"The Vitals: True Nurse Stories" tells three different stories based on the experiences of health care workers at 13 different medical centers within AHN. The comic book follows nurses as they "cut through the noise" of the pandemic and focus on caring for patients and saving lives — despite some having to leave their families and work through exhaustion.
"At Marvel, we tell stories about heroes every day. But this story is special. It tells a story about our everyday heroes — the nurses and healthcare professionals working tirelessly and courageously to save lives," Dan Buckley, President of Marvel Entertainment, said in a statement. "Along with AHN, we are honored to help tell these stories, which we dedicate to the real heroes who are saving the world."
Health care employees and other frontline workers have taken on the brunt of managing the COVID-19 pandemic that has claimed more than 285,000 lives in the U.S. alone. Hospitals have been overwhelmed with patients in several parts of the country, and retired doctors and nurses have volunteered to come out of retirement to help.
"We're all drained. We're all sore. We're all hurting," the comic book reads. "But we never stop. We can't."
The comic book is available digitally and physical copies will be distributed by AHN. A video was also made of the nurses' children seeing their parents in comic book form, which featured emotional reactions from both the kids and the nurses.