Matthew McConaughey Joins White House Press Briefing To Push for Gun Reform After Massacre in His Hometown of Uvalde
The day after the Uvalde shooting took place, the "Dallas Buyers Club" star released a statement on Facebook, saying, "Once again, we have tragically proven that we are failing to be responsible for the rights our freedoms grant us."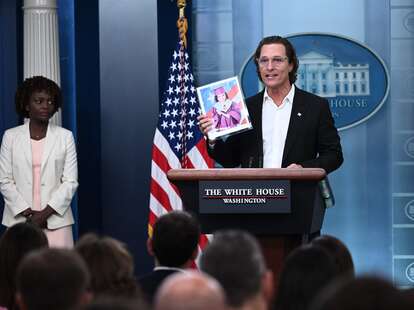 Actor Matthew McConaughey joined White House press secretary Karine Jean-Pierre at today's briefing to demand accountability and action surrounding gun violence in the U.S.
McConaughey is from Uvalde, Texas, where a May 24 mass shooting claimed the lives of 19 children and 2 teachers. He became emotional as he shared stories of some of the victims, displaying their artwork and photos.
"Responsible gun owners are fed up with the Second Amendment being abused and hijacked by some deranged individuals," McConaughey said at the briefing, stressing that curtailing gun violence should be a non-partisan issue. "As divided as our country is, this gun responsibility issue is one we agree on more than we don't. It really is … There is not a Democratic or Republican value in one single act of these shooters. None. But people in power have failed to act."
The day after the Uvalde shooting took place, the "Dallas Buyers Club" star released a statement on Facebook, saying, "Once again, we have tragically proven that we are failing to be responsible for the rights our freedoms grant us."
CNN reported that McConaughey met with lawmakers at the Capitol ahead of the press briefing to engage in talks about gun reform legislation.
McConaughey flirted with the idea of running for Texas governor last year, before ultimately deciding to pause his political ambitions for the time being.