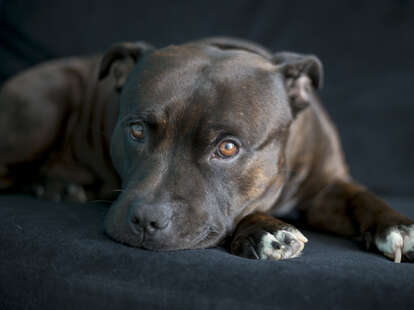 Denver Mayor Michael Hancock announced on Friday that he will veto a measure recently passed by city council to repeal a 30-year pit bull ban.
"I have heard from thousands of residents passionately expressing their opinions on both sides of this issue," he said on Twitter. "After deep reflection and consideration, I find that I cannot, in good conscience, support this legislation and will exercise my authority as Mayor to veto it."
The new code, which was approved in a 7-to-4 vote, would have allowed owners to register their pit bull with Denver Animal Protection (DAP) to get a breed-restricted license. If the pit bull went 36 months without an animal safety violation, owners could then have been eligible to register under the same requirements as other breeds through DAP.
But Hancock said that greater progress needs to be made to address the risk of injury from off-leash dogs, the Denver Post reported.

"The reality is that irresponsible pet owners continue to be a problem, and it is the irresponsible owners and their dogs I must consider in evaluating the overall impact of this ordinance," he said. "We cannot diminish the very real, very traumatic experiences of those who have reached out to me to share their stories."
The ordinance's sponsor, Councilman Christopher Herndon said in a statement that he was "disappointed" in Hancock's decision.
"Research tells us breed-specific legislation is ineffective at keeping communities safe and experts in the field — from the local level to the national level — agree it is no longer best practice," he continued.
Though breed restrictions exist around the country, many say that bans should be based on an animal's behavior and not its breed.
"Breed bans de-emphasize the importance of responsible pet ownership in preventing dog bite injuries, diverting attention and resources away from effective measures such as socialization and training, neutering of male dogs, and licensing and leash laws," American Veterinary Society of Animal Behavior assistant director Kendall Houlihan explained in a previous Denver Post article.
The Denver city council is planning to hold another vote to try and override Hancock's veto—they will need nine votes to override it.