McConnell Laughs As Opponent Calls Out Senate's Failure To Give Americans COVID-19 Relief
More than 215,000 Americans are dead from COVID-19 and many more millions continue to suffer, but the Senate majority leader merely laughed in response to criticism of his response to the virus.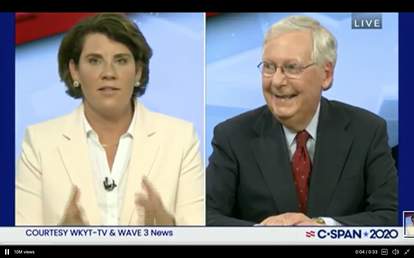 Senate Majority Leader Mitch McConnell (R-KY), who has blocked coronavirus relief legislation in the Senate for 151 days, outright laughed when his Senate opponent brought it up during a debate Monday night. As the Senate has stalled on passing relief, millions of Americans have remained unemployed and more than 215,000 Americans have died of COVID-19.
"The House passed a bill in May, and this Senate went on vacation," said Amy McGrath, the Democratic candidate in the Kentucky Senate race.
McConnell merely chuckled in response and kept a smile on his face as McGrath continued, "I mean, you just don't do that. You negotiate. Senator, it is a national crisis, you knew that the coronavirus wasn't going to end at the end of July. We knew that."
Congress hasn't passed a coronavirus relief package since May. Only weeks before the elections are over, GOP senators are currently engaged in a full-court press to confirm President Trump's Supreme Court nominee Amy Coney Barrett—and all other Senate business is currently on pause.
As McGrath pointed out, the House of Representatives passed the Heroes Act on May 15, a $3.4 trillion economic relief bill designed to help families and small businesses struggling during the ongoing pandemic. The bill includes another round of direct cash payments. McConnell has refused to take it up in the Senate since then, even after the House more recently passed a revised version of the bill that pares it down to $2.2 trillion.
At the debate, McConnell tried to lay blame on House Speaker Nancy Pelosi (D-CA), saying, "Look, I know how to make deals. I made three major deals with Joe Biden during the Obama era. What the problem here is the unwillingness of the Speaker to make a deal."
In reality, Speaker Pelosi has spent much of the last few months meeting with Treasury Secretary Steve Mnuchin and trading offers in order to reach a compromise. So far, the various negotiators have made minimal progress; McConnell has said he won't pass a plan over $2 trillion, even though the White House has indicated that it could approve spending that much. And when Mnuchin and the White House made a proposal that falls below McConnell's supposed threshold, Senate Republicans objected.
According to CNN, "Senate Republicans blasted a $1.8 trillion offer from the White House on a call with Mnuchin and White House chief of staff Mark Meadows" last Saturday.
"While the sentiment was that talks with Pelosi should continue, it was clear that the White House plan had virtually no chance of passing the Senate, per multiple sources," CNN reported.
The COVID-19 relief exchange wasn't the only time during Monday night's debate that McConnell laughed off his opponent or legitimate questions about his leadership.
Kelsie Taggart, the director of media monitoring at the progressive American Bridge PAC, posted a clip on Twitter of five times that McConnell laughed off questions regarding COVID-19. The U.S. also has more confirmed cases and related deaths than any other country in the world, with 7.8 million cases, according to Johns Hopkins University.
The first clip Taggart posted of McConnell had more than 10 million views on Twitter by midday Tuesday.
McConnell also condescended to his opponent about her background, saying of the former Marine Corps fighter pilot, "She mentions she was in the Marines about every other sentence. I think her entire campaign is: she's a Marine, she's a mom, and I've been [in Washington] too long."
McGrath responded, "Senator, you've been there for 36 years. How's it looking, Kentucky?"
This curious line of attack from McConnell comes as GOP senators repeatedly talk about Barrett's "sizable family," as if it is a qualification to serve on the highest court in the land.
At one point during the debate, when McGrath was highlighting the stakes of confirming Barrett to the Supreme Court, McConnell said, "No one believes the Supreme Court is going to strike down the Affordable Care Act."
Yet attacking the ACA is exactly what McConnell's colleague, Senate Judiciary Chairman Lindsey Graham (R-SC), spent his time doing at Tuesday morning's hearing when he was supposed to be questioning the nominee.
Both McGrath and Senate Judiciary Democrats have made the point that it seems particularly backwards for McConnell and the GOP to prioritize Barrett's nomination over passing coronavirus relief.
Democratic vice presidential nominee Kamala Harris (D-CA), who is also on the Judiciary Committee, spoke of how the Senate is currently in recess—a decision made by McConnell—because of a COVID-19 outbreak among GOP senators, some of whom said they tested positive after attending Barrett's own nominating ceremony at the White House. The president himself announced he tested positive after the event; Dr. Anthony Fauci recently dubbed it a "superspreader event."
Harris said the Senate "should be prioritizing coronavirus relief and providing financial support" to families suffering economically during the pandemic right now.
McGrath concurred at Monday night's debate, saying McConnell's "one job … is to help America through this crisis right now in passing legislation to keep our economy afloat so that people can make ends meet. And instead of doing that, he is trying to ram through a Supreme Court nominee right now, instead of negotiating, which is what he should have been doing all summer long."