McDonald's Is Selling Quarter Pounder Candles Because Why Not
The set of six candles includes Bun, Ketchup, Pickle, Cheese, Onion, and "100 percent Fresh Beef" scents.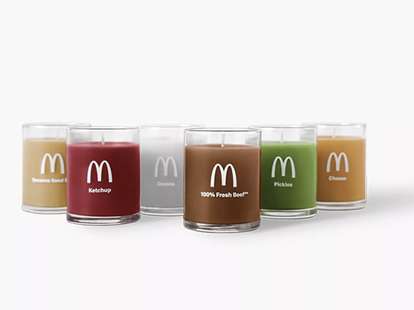 https://goldenarchesunlimited.com/
To celebrate the 50th anniversary of its emblematic menu item, McDonald's announced a line of Quarter Pounder-themed merch, including a set of burger-scented candles.
The scented candle set has all the flavors found in a Quarter Pounder—and yes, that includes a beef candle. And while McDonald's claimed that there's, "no better smell than 100% fresh beef and a perfect combination of toppings," some people are understandably skeptical, albeit amused.
"From an original fan club t-shirt to a burger-centric 2020 calendar, Quarter Pounder aficionados can add some freshness to their accessories whether they want to show their passion right on their sleeve or have a daily reminder of their favorite McDonald's burger," a Tuesday press release said.
Along with the launch of the savory scented candles, McDonald's also announced that it will be honoring "one lucky city that takes their fandom for the Quarter Pounder to new heights," with a Quarter Pounder monument, boasting that, "the sesame seeds on the bun are more than 20 times the size you experience on the delicious Quarter Pounder."
Which city will be the regional recipient of the big burger monument? The answer will apparently be revealed on February 26.
For anyone who wants their home to mimic a whiff of the classic burger, the limited-time swag for "Quarter Pounder enthusiasts" is available at GoldenArchesUnlimited.com.