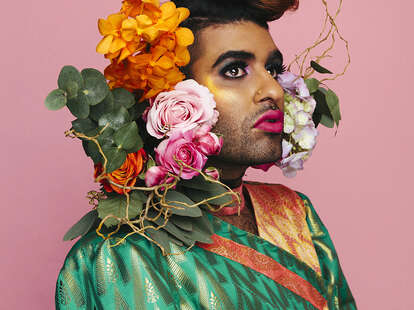 Throughout history, there have always been trailblazers and creatives from every generation who have led the world to the precipice of historical change through grassroots organization, self-expression, reclamation, and so much more. Youth have always been the leaders of our movements toward change, and here at NowThis, we give megaphones to the change-makers of the world.
Alok Vaid-Menon is among the 2021 class of NowThis honorees in the category of QTBIPOC. Read Vaid-Menon's interview below.
What do you think is the biggest issue or challenge we face when it comes to QTBIPOC representation right now?
So often people tell us that our narratives are too "niche" and that the majority of people won't relate to them. We just aren't seen as viable. This becomes a self-fulfilling prophecy: because the powers that be don't invest in us, we remain on the margins. This idea — that we're too specific to resonate — is actually central to our continued marginalization. It's not true. What's is true is that people don't believe in and support us.
How do you balance self-care with activism?
Truth be told: I'm not the best at it. I hold myself to an impossible standard. I can be so cruel to myself. That's why my friends are so important. They remind me to pace myself and take breaks. Left to my own devices I'd totally burn out. That's why I think it's so important to be connected to people who care for you. Not "you" as a list of identities, but "you" as a soul.
How do you handle hate online?
It's relentless. And frankly: quite terrifying. I hate how the onus is on individuals to grapple with this, and not on social media companies to actually make their platforms safe for users.
For me it's a daily practice of choosing compassion. People are so committed to information because they are incapable of confronting the reality of their lives and the world. As James Baldwin reminds us: people are so committed to hate because they are avoiding their own pain. So often people are taking their own insecurities, their own limiting belief systems, and projecting them externally because it is easier to ridicule people like me than reckon with what we're actually saying. Do you know who you are outside of what you've been told you should be?
I remind myself of this: that people are in pain and mistake hurting other people as healing themselves. I find empathy and that becomes the antidote to toxicity. It genuinely makes me feel so much better.
What would you say to someone who identifies as QTBIPOC and is struggling with being bullied right now?
You are part of a sacred tradition of people like you who have felt the same pain before. I promise there are people in the world who see you for you. Who believe you, and who love you. You are not alone.