Throughout history, there have always been trailblazers and creatives from every generation who have led the world to the precipice of historical change through grassroots organization, self-expression, reclamation, and so much more. Youth have always been the leaders of our movements toward change, and here at NowThis, we give megaphones to the change-makers of the world.
Kevin Patel is among the 2021 class of NowThis honorees in the category of sustainability. Read Patel's interview below.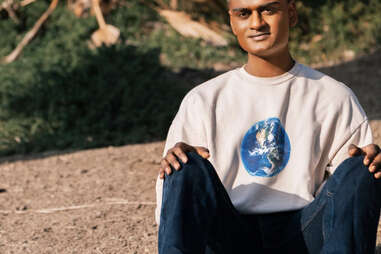 Is there one thing we could all stop doing right now that would have a huge positive impact on the environment?
If I were to choose one thing we could all stop doing right now it would have to be to stop supporting and funding banks that invest in fossil fuel infrastructure and expansion or overall support the fossil fuel industries. Divesting from these banks will send a clear message that we as civil society will no longer allow these corporations to harm both the people and planet for profit.
Why do you think change has been so slow while the threat of climate change grows?
It is true that, unless we take drastic action in the next few decades, we will not be able to limit global warming below 2.7° Fahrenheit (1.5° Celsius) above pre-industrial levels in this century — a temperature level that experts believe will reduce the likelihood of major adverse consequences. However, the more we go beyond that point, the more severe and extensive the negative consequences will be, which means that it is never "too late" to take action to prevent further damage.
The lack of urgency to address the climate crisis has largely been the cause of why change has been so slow and this has been impacted due in part by lobbying from the fossil fuel industry, the publication of skewed and misleading "scientific" reports by the fossil fuel corporations. Leading millions of people to believe climate change is a hoax. Furthermore, we are led to believe that the climate crisis is far more difficult to solve when in reality, the solutions already exist and they just aren't being implemented by governments and corporations. We also see the abundance of conversations and debates around the climate, social, ecological, and economic issues and injustices. Conferences are constantly being held discussing the climate crisis as if it is an emerging issue, however, we are already seeing the effects globally with no actual solutions being implemented or communities and nations getting the support they need to overcome these emergencies.
Lastly, we see that the slow response to address the climate crisis is being brought on by the need of corporations and politicians to line their pockets with money, because they're wanting to get rich. That's why the change is so slow and why the climate crisis continues to grow but there is still hope if we start taking actual action to stop further destruction.
What's something that you learned about climate change that changed the way you looked at sustainability?
When I learned that 100 companies are responsible for 71% of emissions globally. It really changed how I looked at sustainability. I realized that while individual efforts are important and everything and everyone has a role to play, true change will not happen unless we hold them accountable.