Meet The Highest-Ranking Black Woman In TV News: Rashida Jones (No, Not That One)
Jones will become the first Black woman to run a major cable news network in February 2021 after current MSNBC President Phil Griffin steps down.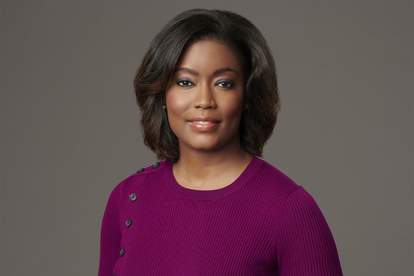 Rashida Jones is about to become the highest-ranking Black executive in cable television — and the first Black woman to run a major cable news network when she takes over as president of MSNBC in February.
The Wall Street Journal was first to report Monday night that current MSNBC President Phil Griffin plans to step down in January 2021 after President-elect Joe Biden's inauguration, and that Jones, 39, will formally take over on February 1, 2021.
Not to be confused with Rashida Jones, the popular TV actress, MSNBC's Jones is a widely respected TV executive who has been working at the network for seven years and currently serves as a senior vice president in charge of breaking news and major events. In 2020, she oversaw coverage of the COVID-19 pandemic, Black Lives Matter protests, and the presidential election, producing high-profile specials and the highest-rated Democratic primary debate. Prior to that, Jones served as an executive producer and managing editor.
The 64-year-old Griffin has been at MSNBC for 25 years, and has been network president for 12 of those years, since 2008. Griffin said he spoke to NBCUniversal management about leaving after the November election; NBCUniversal is the parent company for MSNBC, NBC News, and CNBC. The appointment of Jones as his successor is the first major executive change under the parent company's new leadership: Cesar Conde became chairman of NBCUniversal in May 2020.
In an email to NBC News employees, Conde wrote, "Rashida knows and understands MSNBC, in part because it's where she started when she first joined NBCU seven years ago. She knows that it is the people who work here that make it great, and she understands its culture. She also appreciates the impact and potential of the brand."
NBC said Jones was part of the team that helped White House correspondent Kristen Welker prepare for her widely lauded role as moderator in the final presidential debate between Biden and President Donald Trump. After a chaotic first debate where Trump frequently interrupted Biden and moderator Chris Wallace of Fox News, Welker earned rave reviews for her moderating skills in the final debate.
"If you've worked with Rashida on any of those endeavors, you know that she has an outstanding track record and she leads with a laser-like focus and grace under pressure," Conde wrote in his note, according to the Wall Street Journal.
After George Floyd died at the hands of police in May and Black Lives Matter protests erupted across the country, the national reckoning on race forced many companies to take a hard look at their own internal diversity numbers. Shortly after he was named chairman, Conde — who is the son of Peruvian and Cuban immigrants — pledged that at least 50% of NBCUniversal staff would be women and people of color within the next few years.
Some of those changes are already visible, with the appointment of Jones, as well as MSNBC anchor Joy Reid taking over the network's primetime 7 p.m. slot after the long-running "Hardball" host Chris Matthews resigned in March. Reid is the only Black woman currently hosting a nightly evening show on a major news network.
Reid, who formerly hosted a show on the weekends on MSNBC, has been replaced with Tiffany Cross and Jonathan Capehart, both Black journalists. The Journal also reported that Conde approved giving Alicia Menendez, a Latina journalist, a weekend primetime anchor slot.
Jones has yet to make a public statement about her new position, but the announcement was well-received by many on Twitter, both by those who work at MSNBC and outside of it:
Griffin's final year as MSNBC president was tumultuous, after investigative journalist Ronan Farrow published "Catch and Kill," a book about the sexual assault and harassment allegations against Harvey Weinstein — and some media executives' role in covering it up for many years. Farrow, who worked at NBC News and MSNBC for a few years, accused Griffin, former NBCU Chairman Andy Lack, and NBC News President Noah Oppenheim of looking the other way when confronted with the Weinstein story as well as other allegations of sexual harassment at the network.