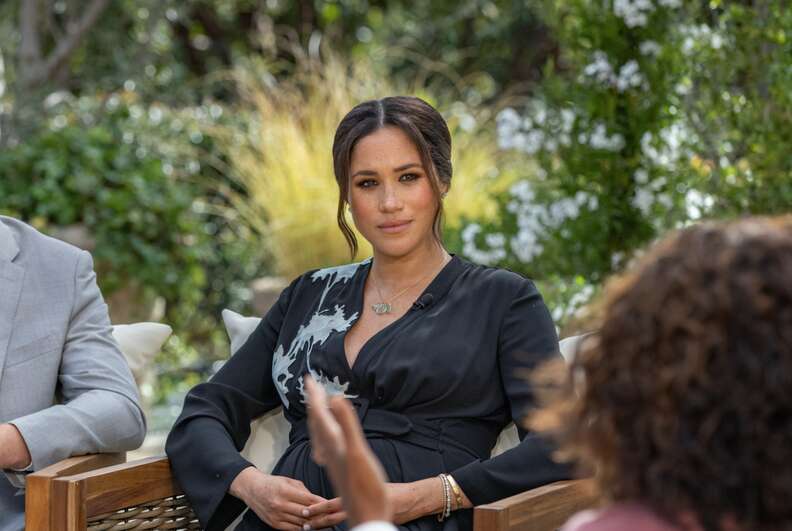 Meghan Markle spoke candidly for the first time about her mental health struggles after becoming part of the British royal family, revealing in a new, tell-all interview that she experienced suicidal ideation.
Meghan and Prince Harry shared shocking new information, in a highly anticipated interview with Oprah Winfrey that aired Sunday on CBS, about their tumultuous relationship with Buckingham Palace and the British tabloids. This is the first time the couple has spoken out together since announcing last year they would be stepping back as senior members of the Royal Family and moving to California.
During the interview, Meghan told Oprah that she started having suicidal thoughts while she was pregnant with their son Archie and was "ashamed" to tell her husband.
"I was really ashamed to say it at the time and ashamed to have to admit it to Harry, especially, because I know how much loss he's suffered, but I knew that if I didn't say it, that I would do it and I just didn't — I just didn't want to be alive anymore," Meghan told Oprah. "And that was a very clear and real and frightening, constant thought."
In several instances, the Duke and Duchess of Sussex spoke about not feeling protected by the royal family, as the British press spun stories attacking the couple — particularly in racist ways toward Meghan, who is half Black. The couple also said they felt trapped, and Meghan said at one point she had only left their home twice in four months.
Harry said he didn't feel supported by his family while his wife was constantly the target of the British tabloids. He also drew a parallel between Meghan's mistreatment by the public to that of his late mother, Princess Diana, who was constantly harassed by paparazzi. Diana died in a tragic car crash in 1997 after being chased by photographers
"No one from my family said anything over those three years," Harry said of the harassment from the press. "My biggest concern was history repeating itself."
When Meghan told Harry about her struggles, she said, "he just cradled me." They later attended a public event together because she said she "could not be alone." Meghan also said she inquired with a senior royal about seeking professional help, but was told it "wouldn't be good for the institution."
"I share this because there's so many people who are afraid to voice that they need help and I know personally how hard it is to not just voice it, but when you voice it, to be told 'no,'" Meghan said. "This isn't some abstract idea. This is methodical, and this is not who I am."
Meghan also said: "I came to understand that not only was I not being protected, but that they were willing to lie to protect other members of the family, but they weren't willing to tell the truth to protect me and my husband."
Harry said in the interview he "had no idea what to do" and that he "went to a very dark place" after Meghan revealed her struggles.
"I wanted to be there for her," Harry said. "It's really sad that it's gotten to this point, but I've got to do something for my own mental health, my wife's, and for Archie's, as well, because I could see where this was headed."
Following Meghan's admission about her mental health, many people shared support for the duchess and her "courage."
Meghan and Harry's remarks are an important reminder that if you or someone you know is struggling, there is always help. Call the National Suicide Prevention Lifeline at 1-800-273-8255.