Brutal Killings in Mexico Reignite Anti-Femicide Protests
One of the protests was at the offices of a newspaper that published leaked photos of a 25-year-old woman's slain body.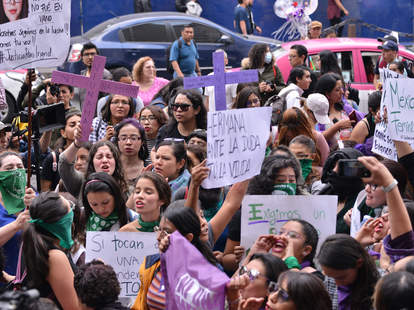 After hundreds of protesters marched against femicide in Mexico City on Friday in the wake of a musician's brutal killing, activists returned to the streets Tuesday, the same day of a slain 7-year-old girl's funeral, the Washington Post reported. 
The body of 25-year-old musician Ingrid Escamilla was recovered in gruesome condition last week. Her body was partially skinned. A 46-year-old man, whom local outlets report as Escamilla's partner, was covered in blood at the scene and arrested in connection to the murder.
Then, over the weekend, the body of 7-year-old Fátima Cecilia Aldrighett, who went missing on February 11, was discovered days later inside a plastic garbage bag near downtown Mexico City.
The protesters who marched on Friday walked to the capital's National Palace during President Andrés Manuel López Obrador's daily news conference and to the offices of La Prensa, a newspaper that published leaked photos of Escamilla's slain body.
Then on Monday, Fátima's relatives criticized López Obrador, saying his administration has not done enough to protect girls and women from violence, Reuters reported. Fátima's aunt said the girl could have been found alive if authorities had listened to her family.
On Tuesday, Mexico City announced that it would tighten regulations on students leaving school grounds after Fátima's death. She was reportedly last seen on video leaving her school, and the cause of death has not yet been released. Prosecutors are offering a $107,000 reward for information about Fátima's death.
Latin America is home to 14 of the 25 countries with the world's highest femicide rates, according to the United Nations. One in 10 women are killed in Mexico each day. In 2019, victims of femicide increased 10% to more than 1,000, Reuters reported.
López Obrador on Monday blamed the violence on neo-liberal economic policies of past governments.